Hmm today's title was a tough decision. I was saving the shirt for a special occasion. I was going to wear it when we planned to drive from Mazatlan to Durango on one of the worlds most dangerous roads; "Espinazo del Diablo" otherwise known as The Devils Backbone. Filled with both perilous cliffs without guardrails, and crazy truckers who have no choice but to take blind corners in your lane due to the narrow roadway, this is apparently a hair raising journey that lasts for just under 200 miles of both beautiful scenery and enough stress to shave off 10 years of your life.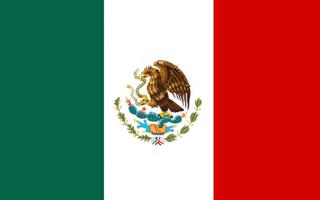 Unfortunately we changed our plans and headed south instead…besides it was way to early in the trip for Paul and I to go crashing off a mountain to our death, what would you read if we had? I then thought about saving the shirt for the border crossing from Mexico to Belize, since so many people thought we were crazy to try and travel through the dangerous third world hell hole known as Mexico. But alas, as you read in my previous post, that border crossing will most likely not contain the two of us…so once again I had to revise my plans. So here we are, what better time to break out a symbol of triumph and greatness, than the day Paul and I climbed the worlds third largest pyramid, as well as meandered down the "Avenue of the dead". Yup, Teotihuacan….bad ass.
But 18-1 Bitches!…why you ask?? Well, 18-1 stands for excellence, determination, the greatest NFL Quarterback of all time Eli Manning and the 2007 New York Giants, and because I know Tom Brady reads my blog regularly and it brings me great satisfaction knowing I just made him cry. But once again I am jumping ahead of the story, so lets start where I left off, headed for the crazy looking city of Guanajuato.
Once we finally said our goodbyes and got out of Guadalajara we headed for Guanajuato, one of Mexico's many UNESCO World Heritage sites. The city lies in a small valley, with houses of every color crammed side by side up the steep hillsides. Anyone who has done some research before heading to Guanajuato has heard it is a rather confusing city to drive in….which we found slightly true. This small city has a series of underground tunnels, formerly used for the river, now used to confuse any tourist stupid enough to try and drive through the city. There are guides all over the city that practically jump in front of you to offer their services…but we chose not to use one due to the fact that there was no seat for them, and traffic is not very bad here as most roads are so narrow they are for walking only. Wellllll, I would recommend you pick one of these guides up if your looking for something in particular.  There are not many roads, but the directions and signs are terrible. It was easy to figure out our way around the city as we did 2 or 3 circles, but finding the RV park we stayed at ended up being a whole other challenge. All directions regarding Mexico are incorrect, we have seen this on maps, the internet, as well as directions from the locals themselves. This place proved to be difficult to find, so difficult that I decided when we left I was going to retrace my steps and video the drive into the city to the RV park to help any one else trying to find it. Unfortunately when I tried to get back to the west side of the city where we originally started from I got lost again, and eventually ran out of time as we had to meet Marie in San Miguel de Allende though that is again getting ahead of the story.
Sunday morning we hit up breakfast at a place that I had assumed would be too expensive, as it was very fancy looking and right in the main plaza. Well, for about 100 pesos or less than 10 US dollars I got some hot cakes with ham and bacon (5 pesos) some orange juice (3 pesos) and a water (2 pesos) along with a basket of free, delicious bread. After that we walked around the city checking out the sites and decided since we are so young and in shape to head up some random alleys, which are nothing more than stairs going straight up. Near the top of one particularly long set of stairs I had Paul wait below so we could get a picture of each other to try and show the distance, when a gentleman stuck his head out the window and started talking with me. Now I assumed he was going to yell at us for being too loud, but he was just curious to what we were doing way up here, and knew just enough English to really converse with my non-fluent Spanish. After many stairs Paul eventually joined us and suddenly this guy invited us up to his rooftop for pics of some great views of Guanajuato. This is the type of thing I feel like I will go on and on about here on this site….people will go out of their way to help you or show you a good time when there is nothing in it for them, he simply wanted us to see his city from an amazing perspective few tourists get to see….good thing we are not tourists, but travelers (See, I don't make this stuff up). His house was huge, and the rooftop had a sweet fireplace, along with some empty cerveza bottles. The only thing I didn't get a picture of that I wish I had was the ladder required to get up there…it was lacking a bit according to US safety standards. I joked about him getting down after too many cervezas, I could tell he knew exactly what I meant from previous experience.
So as I stated in my last post Maria from our Spanish school was also traveling to Guanajuato, so we met up with her on day 2. She also brought her new friend Rodolfo from her hostel, and the four of us wandered around the city, enjoying an amazing day. We hit up the normal sites, as well as checked out the mummy museum. It was interesting, though didn't do much for me personally, but for 5 us dollars who can complain. We spent the rest of the day chilling at a cafe, then a restaurant where I again proceeded to eat way too much, and finished off the night on the hostel rooftop where I was smart enough to avoid the tequila drinking that was going on….for the most part.
Overall, a perfect way to spend the last night in Guanajuato. While packing up camp the following morning I went and began talking to an older gentleman who had gotten to the RV park the night before and had NY plates. Turns out he was from the general area Paul and I went to high school at, and had been driving around the world in a van for years. He pretty much reinforced our opinion on travel, the people out there, and the relative safety of it all. He also provided us with some more tips on what to see in Mexico…so I may never get out of this country.
San Miguel de Allende
So the next stop was San Miguel de Allende, a small town about 1 hr from Guanajuato that a friend of ours from San Diego had told Paul we had to checkout. San Miguel de Allende is a bit upscale, especially for Mexico. This is not what I was looking for in Mexico, there were American license plates everywhere, and the prices were jacked up slightly with Semana Santa (Easter) around the corner.  We met up with maria, decided to walk around a bit, and relaxed in the plaza for awhile as we listened to a guitarist and pan flutist play renditions of Dust in the Wind, along with a few other well known songs I cannot remember. Eventually we made it back to the RV park, but in just a few hours I got a second wind, and decided I was not going to spend my time in Mexico watching movies or checking email. So off I went to see what San Miguel de Allende had to offer, leaving Paul and Maria behind to make whatever important facebook status changes they needed to make.
Let me tell you, once the sun went down my perspective of this place completely changed. As I walked down the streets I couldn't help but note how the dimly lit lights perfectly illuminated the cobblestone roads, while lighting the Baroque (yup, I had to look that up!) colonial architecture painted in brick reds and golden yellows. There were hip looking restaurants and bars everywhere, which appeared to be filled with younger, yet elegant girls, I mean people…now this I can handle. I made my way back to the Plaza, which was absolutely beautiful at night, and as with every other plaza, was filled with people out enjoying the great weather and atmosphere. But this plaza was different, this one had bands serenading people, which we hadn't seen much of yet, at least not at his level. The music was perfect, not too loud, not too fast, and with that Spanish flair I had been searching for. The guitars melted away as the trumpets came in at just the right times, the violins accented the singers voices as people gathered to watch, dance, and just have an overall good time. Now I don't usually say things like this, but this place was magical. This was just what I needed, I ended up staying in the plaza the rest of the night, just people watching and enjoying the music (and of course I couldn't pass up enjoying a delicious hotdog wrapped in bacon, peppers, onions, etc….you can tell by looking at me I normally do not eat everything I see, but for some reason, I cannot stop eating down here). Of course all good things must come to an end, and mine certainly did. As a man stumbled in my direction and began slurring to me, I quickly realized I was in for a treat. As I explained in Spanish that I didn't speak Spanish, which threw him a bit off, he proceeded to sit down next to me anyway. Oh, what do you have there, a bottle of tequila, hmm, ok I will stick around and see where this goes, I am sure this guy has a lot to offer entertainment wise. Oh wait, your just spit a giant wad of saliva on the street, then turned to me with 3 inches of spiut still hanging from your mouth without any inkling that it is there….ok I am out. Within seconds I was out of my seat, speaking some rapid fire English knowing he clearly wouldn't understand, and hurried my way across the plaza back to the safety of the Astro. Ok San Miguel de Allende…I suppose I deserved that for not giving you a fair chance from the start.
Mexico City Pt 1 (The long way around)
Mexico city is a nightmare to drive around. But before I get into that, these next two pics are a must see.  One of the main reasons I have held off on buying a big rig for so long is my fear that I had no idea what I would do if I lost the top half of it.  Well, while driving to Mexico City my concerns have been answered, you just keep going.  Unfortunately my driving while picture taking skills still need some work, but you get the idea here.  The only thing I didn't capture were the sweet goggles he was wearing.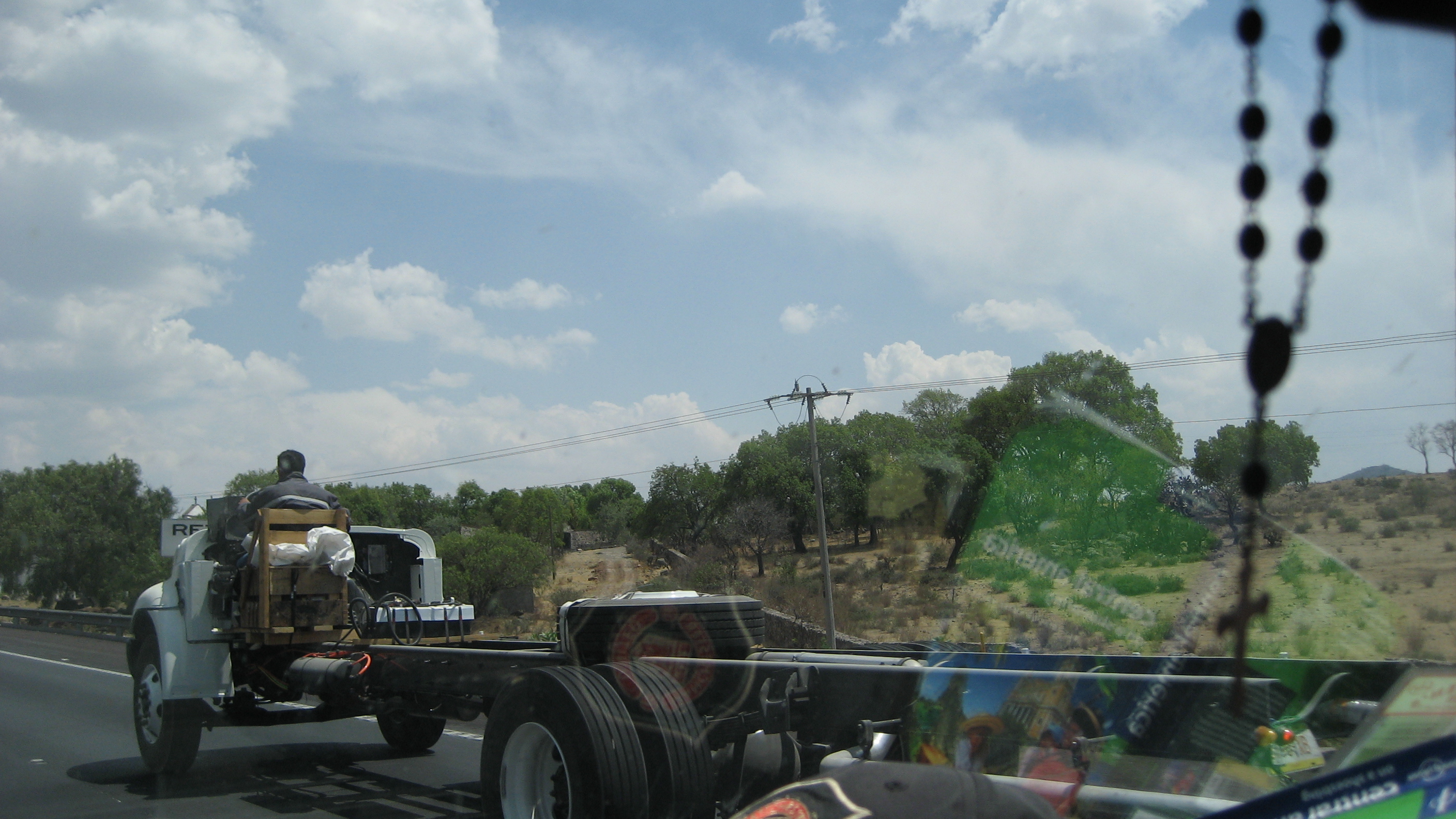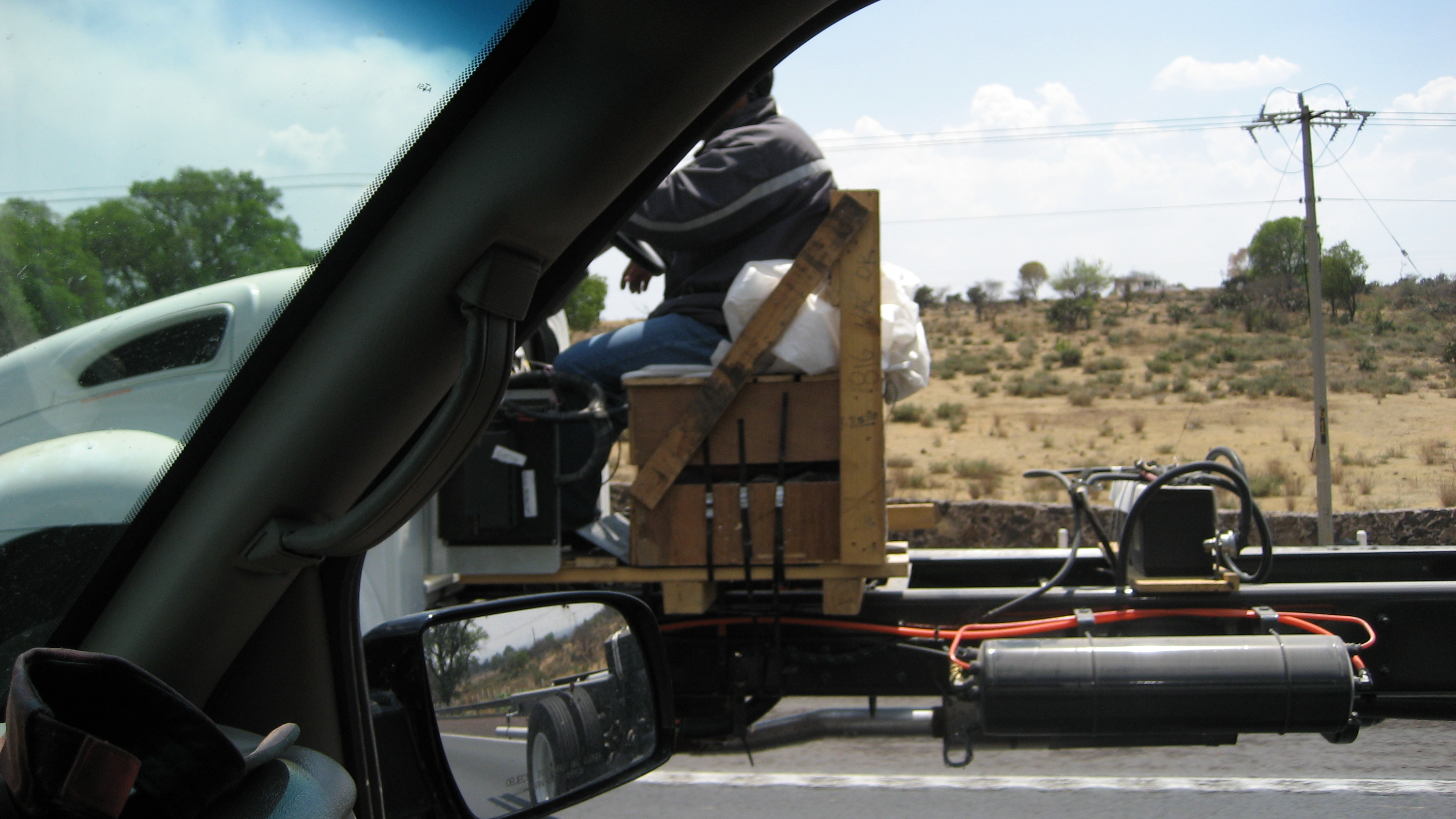 Now, back to Mexico City.  I have spent some time in LA, that place is a hippies green paradise after being in the sunless Mexico City. I think my lungs will forever be scarred. There is so much traffic and pollution that there are restrictions on what days you can drive depending on your license plate number. There are also reports that a US plate may always get you in trouble, regardless to your plate number. For this reason, many people choose to head north to Teotihuacan, home of the famous Pyramid of the Sun, and Pyramid of the Moon. Teotihuacan Trailer Park provides a base camp within walking distance of the pyramids (30 min walk, or you can cab it), and you can leave you vehicle here and take a 45 min-1 hr bus ride into Mexico City, avoiding driving through or around the city. What a great plan, we like simple solutions. Now if you have just tuned into this blog, you know that for us this just sounds too easy. I am going to blame my navigator here, simply because I only have another week or two where I can do just that. Paul got us lost, sure he says it was because there were no signs with the route numbers we needed, but come on man, its Mexico City, piece of cake. Teotihuacan is northeast of Mexico City…we basically followed the periferico all the way around the city the long way…south, then east, then north, eventually finding our way to our destination….hours later. The further south we went, the more rundown the city became. As it was daytime (or ignorance) we never felt we were in any danger, though it was clear many parts of the city would not be the same at night . I have been in nasty areas, but some of the places we found ourselves once lost were really bad.  Some of these poor people live in a truly awful place, I wouldn't wish on anyone. At one point there was a terrible smell of sewage, it was overwhelming.  But like the Mexican way, there were kids in the "parks" if you can call them that, and people out running, trying to make the best of what they have, seemingly oblivious to the odor. I have seen this mentality everywhere, they play the cards they are dealt in life, and that is something you have to respect. Oh, and on a side note, a guy hit me, can you believe it?? As we pulled up to a light one of many window washers we have seen came to clean my window. Now I am torn on this, I know its at least a respectable source of income, and he is not out robbing people or anything, but even if my windows are clean they see the cali plates and zoom in. I said no several times making it clear I wasn't interested as we just got it cleaned a few blocks previously, Paul also reiterated that we did not need a cleaning. Though stopped I didn't like him approaching us in a nasty area so went to drive past him, and he kept going right up to us, walking into my mirror. Now in honesty it tapped him if I was even moving, we stopped right there, he didnt fall back or anything, he just intentionally stepped into a slow moving vehicle. But this he didn't like, so he punched the mirror and went back to his corner after giving us a look of disgust. Ok, well at least that is over. Green light, lets get the F out of here….as we drive by he squirts his cleaner on my window. Making the best of the moment, I give him a friendly wave and throw on the windshield wipers, sweet, at least we got a free cleaning!
So as you can see a lot happened in Mexico City considering we were trying to avoid it. Finally in Teotihuacan Paul wants to get up early and beat the rush to the Pyramid. I told him not to wake me, if I heard him getting his stuff from the van I would decide whether or not to go. Well I got up, but we barely got out. Since Paul was up before me and had a much more difficult time than I did I will leave that part of the tale to him, but I believe we left at 6:30 since the park opens at 7:00 (7:20 Mexican time). So we hike over there and they finally let us in at 7:20 and we book it to the Pyramid of the Sun, thinking we need to beat the rush. This thing is crazy big. Now I don't know if I am more blown away by why those people would do so much work building this gigantic structure out of stone, or the fact that people think its a good idea to climb to the top of the world's third largest pyramid. Ok so it wasn't awful, though there was a bit of huffing and puffing from Paul. Eventually he made it to the top, and thanks to his eagerness to get a jump on the day, we found ourselves on top of the pyramid with absolutely no one else around, aside from 10-15 hot air ballons above. Now this is sweet, and we had it to ourselves for about 30 minutes, so we could relax, enjoy, and take it all in.  Oddly down below we could see all of the people getting off the tour buses and going to the vendor stalls 1st rather than the site, which worked to our advantage.
Once we had our fill and saw some people finally start to storm the pyramid we made our way down, and over to the pyramid of the moon, a smaller,but still awesome structure. The pyramid of the moon sits at the beginning of the Avenue of the dead, which is lined with even smaller, but still impressive pyramids and structures. As you can guess from the name, there was a lot of human sacrifices going on here. Think Indiana Jones and the Temple of Doom. Over the next two or so hours we walked around the rest of the park and eventually made our way home, I was extremely glad I had taken Pauls advice and gotten to enjoy the park virtually to ourselves.
Mexico City Pt 2 (Where is everyone???)
We later took the bus into Mexico city, which cost us 26 pesos (2.16 US), and got us right to the metro. There are stories here I will leave to Paul, I am only going to focus on the negative here. I actually enjoyed Mexico City for the most part, and there are many nice areas as well as great people. But Mexico City was not what I was looking for. Now it was Santa Semana, and we had been told everyone leaves the city and heads to the beaches. Well, I wanted to see the crazyness, not empty streets, and with a city of this size how empty can it get? Well, this place was dead, I couldn't believe a city of this size could be so calm. The only people in town were tourists, great just what I hate! This also made it a pain to see things as lines were everywhere for the touristy things, which may or may not be normal. We decided to take one of the hop on hop off city bus tours, which would provide easy access to safe areas of the city, all for 12 US dollars! Sweet, lets role, 1st stop, museum of Anthropology. We decided we would split up for the day as we had our own interests, and since I didn't have a watch on me it would be too tough to meet up at specific times. The museum was great, I would recommend it to anyone in the area. Unfortunately when I left I tried to get onto a bus where the guy informed me that my ticket # didn't match my bracelet, it was off by one. Clearly the lady had switched Paul and my tickets, but he wasn't having it. I forced my way onto the bus so the driver would go as they are impatient and continued to talk some reason to the tour guy, but all he wanted to do was sell me another ticket. So he forced me off at the next stop, telling me to go talk to his boss. Fine, this should be no problem, and at least I know Paul must be having the same problem so they will know the situation already (Of course he had no idea what I was talking about the next day, not 1 person questioned him!). So I find the ticket counter, talk to some people, and they tell me it shouldn't be a problem. Great, I wait around for 20 minutes, the bus pulls up, and walk up to get on, ignoring the long line in front, since I already waited in a similar one this morning in Zacalo, and they made me get off. Well the guy here doesn't buy it. He tells me he needs to respect the paying customers who are waiting in line. What?? You guys made me get off at a stop I wouldn't have gotten off at, now needing to get on a bus going the wrong direction, why on earth would I wait in line again? He tells me something else about them having priority. So your telling me once you get our money you don't care what happens to us? A little more "bickering" (I have worked retail and know to be calm, I was very civil with this guy) I even get him to admit his company was at fault, and he still wont budge. Hmm, ok, this guy is a dead end. I decide to track down the guy who said no problem, as he was extremely reasonable with the situation. I tell him I am not waiting in line and play dumb asking for directions to the museum…hoping he will just put me on the bus. Success, this guy rocks, knows the other guy is being a dick, and just lets me on. But now I am too afraid of getting off the bus and not being allowed back on…so I take it all the way back to Zocala and walk the streets for awhile. I waited till 5pm for the lines to die down and ride it once more around the city as I had missed half the tour from where they made me get off and walk due to the directions the buses ran. While I generally try and avoid fast food since I am in Mexico, it was late and I was tired, so I headed for the quick and easy Burger King. This is where my world fell apart.
[portfolio_slideshow]