People thought I was nuts when I said I was going to drive through Mexico, and fucking crazy for going to Colombia. Yes its true, back in the day, from the 90's and early 2000's, there was a pretty significant safety problem in Colombia. And yes it is true that there still are areas where safety is a problem. Take Cali for example, it is a relatively safe, fun city, yet just last year in 2011 there were bombings and kidnappings, and recent a bombing in Bogota of May 2012. Now I havent made it down there yet, but as its on my list I wont be skipping it, so I suppose you will get the real low down later, but for what I have seen of Colombia so far, it is just what everyone else who has been here describes it as, amazing. The country is beautiful, and the people are very friendly and love life…I suppose that living through a period of terror will make you appreciate things others take for granted.
Cartagena, Tagonga, and Tyrona National Park:
1 US Dollar = 1796.20 Colombian Pesos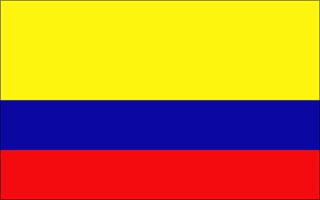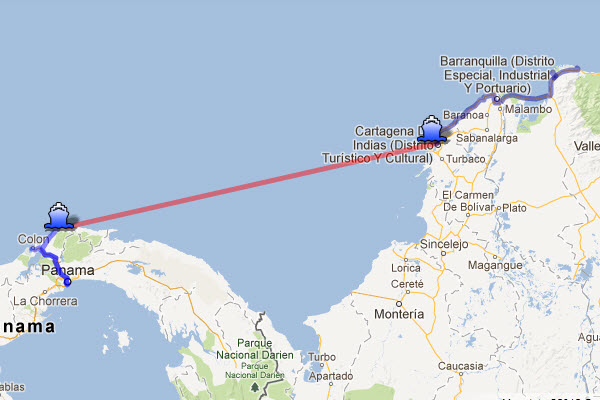 Cartagena:
Finally free from the ship the Independence crew got dropped off in the harbor and we all headed to the aduana, where eventually we were given our stamped passports, no paperwork, no nothing! While most stayed there are the aduana, the two Canadian girls, the Swiss girl, and I went off to find an ATM and get some money, as they had to pay up their tab. Warning, ATMs in Colombia are a bit problematic. We eventually tried four different ATMs, I think I went 2/4, the Swiss girl could only get 150USD worth of Colombian pesos, and the Canadians couldnt get anything. My shipping partners later also head problems getting money, its actually quite a pain here. Most limit you to 150USD, but let you withdraw 3 times, hitting you for 3x the service charges, if they work at all. There is a citibank in Cartagena a few blocks from calle Media Luna where the hostels are, where we later found we could get at least 500USD which worked for me every time, so just ask where that one is and dont bother messing with the others.
I already mentioned we hung out for a bit in Cartagena, walking the streets of the walled city, where every corner reveals another picturesque setting. The city has a great feel to it, but I quickly realized that its pretty small, and can be seen in a day or so. Later I was even convinced to go to the tourist trap mud volcano. It was actually fun, a unique experience, has a consistency of yogurt, and tastes disgusting. I decided if I was going to do it I was going all in, dunking my hair and covering my face predator style, which resulted in me going blind for 5 minutes until one of the workers came to my rescue, as well as getting it in my mouth and forcing me to taste the mud continuously through out the experience whether I wanted to or not.
I missed out on some other fun as the shipping process had begun, but made sure not to miss everyones bon voyage party as the rest of the group was leaving on the same day, coincidentally the day I was supposed to get my van (of course we didnt get it when planned). This meant partying till 3-3:30 in the morning, and waking up at 6am to head to the port, for a 12 hour day of nonsense. That means at most I had 3 hours of sleep, I cant quite say exactly what time it was that I went to bed, but can assure you I woke up at 6 am, unfortunately I do not recommend doing this. I repeat, I do not recommend doing this….oh my god, what a terrible day. The worst part was I barely did anything all day, the lady wouldn't let me into the port even though I read that both owners of the vehicles could go in. She probably saw that I would be absolutely useless, but I would have rather been roughing it doing car stuff than watching the grass grow outside for hours upon hours not knowing what was happening. Eventually we defeated the evil port bastards and got our homes back…never have I been so happy to be living in a van again.
With everyone gone headed south I was a bit lost as to what to do. At the same time I was busy enjoying my AC room so stuck around Cartagena for another week, which is way to long for that place as far as I am concerned. Cartagena is extremely humid, but its is also a good time, and I made a few group of friends as people passed through in that time, as most people seem to stay for about 2-3 days. One night the new boat crew I mentioned in the previous post, along with two English guys and a German girl and I decided to have a wall party. This is just the crazy and wild party it sounds to be, as we hung out on the wall causally drinking beers, as you can walk around with beers in Cartagena. As we were winding down the party we were greeted by some cops, who looking for cocaine gave us some of the most throughout frisks of my life…now this is a wall party! Finding nothing they let us go, and at this point it finally happened. I have dreaded it for months figuring Cabo San Lucas would be my downfall as there are holes ewverywhere, assuming it would be the result of too much alcohol, but no, this would be a sober moment. Walking along the German girl says something to me and I turn a bit to respond
most likely with a witty, clever response, when suddenly my foot falls through a hole in the ground and smashes my shin against a rusty grate. Thinking quickly I catch myself with the giant glass bottle in my hand which could have easily shattered on the rock walkway and sliced open an artery, see I told you I was smart. Luckily neither the leg or bottle broke, but even now, weeks later it still hasnt healed properly, but it could have been much worse.
Tagonga:
With that it was time to get out of this city. I made plans to meet the English guys and German girl in Tagonga. Tagonga is a good place to meet other travelers and do some partying, as well as do some cheap scuba certifications, though not necessarily the greatest environment for it, the people I talked to who did it enjoyed the experience. After the great diving in Honduras I was in no mood for some sub par diving. At the hostel I bumped into the Australian from the Independence crew, so we invited him out with us for some food, but that is really all I saw of Tagonga originally. I stayed at some hostel with San Felipe in the name, it seems to be the backpacker place to be. I first asked if I could sleep in my van and just use their bathrooms and internet, but they said no. I asked if they thought my van would be safe if I left it out front and got the awkward face telling me, they were not sure. Sold…I decided the parking spot I had wasnt too bad and would risk it and got a room as I wasnt sure when my friends would show. Turns out its a pretty nice place, the dorm room I had was just a 3 person with our own bathroom. I had 2 more hot blond roommates from somewhere in Europe, but
we unfortunately didnt really see each other until the next day at breakfast, and they had already been to Tyrona. Thats too bad, I was ready to ditch the English guys and make room in the van for these girls. BTW two weeks later I am back. It also turns out there is a bathroom in the main lounge area here. I know this as I am back, pretending to be a backpacker staying here, so I can use the internet…little do they know I slept outside last nigh in the van, mauahhaha.
Tyrona National Park:
The next day I reluctantly loaded the English guys instead of two hot blondes, and of course the German girl into the van and we made our way to Tyrona. Tyrona is a beautiful, though pricey place. There are several campgrounds, but the popular backpacker one is San Juan del Guia, which is also the furthest. The entrance fee is 36,000 pesos, (20USD), and then you need to rent hammocks once you get to San Juan for another 20,000 pesos a night (11USD). Now that isnt terrible, but I carried in my own tent thinking I could avoid this fee as I had read conflicting info online, but I was still charged 15,000 pesos a night (8.35USD) for using my own tent so should have saved myself the effort leaving the ten behind and got a hammock. They also wanted to charge me 15,000 pesos (8.35USD) for the vehicle entrance fee, and then a daily parking fee of 7,000 pesos (3.90USD). Then of course the food is on average 8-12 dollars for pretty bland stuff. To save some cash I parked at a small store out front of the park and paid them 6,000 pesos (3.34USD) a night, which ended up working out fine, and saved me a whooping 56 cents a night! The beaches are beautiful, and there is plenty of hiking through the jungle to be had. To get to San Juan you have to hike about 2 hours. Everyone told us in Tagonga to get an early start, and make sure we were hiking by 3 at the latest, so naturally we started our hike at 3:30 haha.
Of course we ran out of light, and finished the last bit by walking through disgusting mud pits in the dark, but we kept our spirits up and the English guy even said it probably added to the experience in a comedic way. I wasnt sure I agreed at the time, but of course looking back he was correct, it was hilarious, and I am sure the norm for plenty of travelers. Everyone left the next day which seems to be pretty standard for the backpackers I met there, as most people grab the boat back to Tagonga from San Juan, rather than hike back out. I stayed and relaxed for 5 additional days getting my moneys worth and enjoying the beaches. One night I even met a couple from San Diego who lived 5 minutes from me, small world. Finally I had enough and got ready to leave early one morning only to find no one was at the exit of San Juan. I waited for 15 minuted intent on paying, but finally said F' it and headed off for my 2 hour return hike, saving myself some money as I only had paid for the 1st night. Yes, thats roughly 30 bucks saved, I am so bad ass!
[portfolio_slideshow]