Mexico: Xilitla, and El Tajin
Starting to get closer to Oaxaca, I cant help but get excited.  I am Still very far from it, but for some reason, even though this is all new territory, having stopped there makes me feel like the trip doesnt restart until I return to Oaxaca.  I also dont know what to expect out here in this part of Mexico, though so far there has been plenty to see.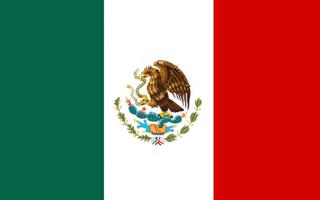 Camping/hotel cost for this section: 380 Pesos (28 USD)
Camping/hotel total: 790 Pesos (60 USD)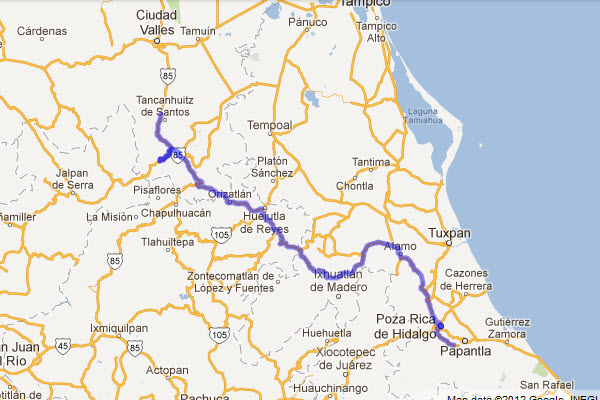 Xilitla, San Luis Potosi:
If Dr. Suess and Walt Disney had a baby… thats right New York, get over it.  So yeah, if Dr. Suess and Walt Disney had a baby, and they gave that baby mushrooms, Las Posaz is what I would expect that baby to create. I had read Xilitla was used by people as a jumping off point for some of the outdoor activities I described in the previous post, so I knew there would be decent hotels. Not feeling 100% I figured after all the stealth camping I had done I had earned a bit of real downtime. Driving into Xilitla I knew right away I liked the town, it was another small town built in the mountains, and it was hectic for such a small town, the only way to be in Mexico.  Actually getting into town though I quickly realized the streets can be a real pain. Every street should have been a one way street, but most of them went both ways, which meant I had to be extra careful of which ones really were one way, as well as getting out of the way of other cars coming at me.
I pulled both mirrors in which helped, but what didnt help were all the cars double parked in the worst spots, and the vendors with carts in the street, whos umbrellas were lower than what my Astro can clear. I did a lap through the town looking for the cheapest hotel with parking listed in Lonely Planet. While I did not find the street I was looking for, I had managed to successfully navigate the gauntlet without ripping off any umbrellas or going the wrong way down a one way street. As the town is very small I also realized it was pretty easy to figure the layout. The second round I was able to park and walk to find the hotel. The "parking" listed was actually only a few spots on the street out front of the hotel, pretty much all taken from random people. I told them no problem, I wasnt confident I could find the place again without getting into trouble, so I would leave the Astro were it was and risk it, which turned out fine, no one messes with an Astro.
After living in a van for who knows how long, the hotel was great, and only 175 pesos a night (12.72 USD)! Oh, and it was huge! Ok, not really, I got a small single room but again, after the confines of the Astro I felt like a king. The showers had hot water, not that you needed it in this warm muggy town during the day, also had a TV, a fan, and wireless internet for the 1stday I was there. Naturally it went out the second day never to return. The view looking out on the mountains wasnt too bad either, and while I didnt have a balcony the walkway to the 5 rooms on my side was basically a giant balcony so I could just leave my doors open while I was there, enjoying both the view and cool evenings. I figured since I was not feeling well, but already starting to come around, today was the prefect day to finally cave into the craving I had fought for weeks….pizza. Yup, I decided to get a pizza in Mexico, you can only eat so much Mexican food.
I went to the local place down the street, and got a Mexican pizza, I figured they couldnt mess that one up. Not sure if it had been my long break from pizza, but overall it was pretty good, which was a relief since i had it for dinner, breakfast, and then lunch the next day. The town kind of shuts down early, so I ended up getting a second one the next day due to lack of choices as most restaurants were empty or closed. It wasnt good enough for another pizza two days in a row, but it wasnt bad enough for me to test the lonely open taco stand that no one seemed to be eating at. This time I went with Hawaiian which might have been even better. What can I say, if I am going to cave in to my cravings I might as well go wild.
Reading lonely planet they mentioned yet another bizarre thing of many in Mexico, Las Posaz. Apparently Xilitla is known for this art structure thing that some English guy built here in the middle of nowhere….eh, not for me. Well I am here, so I should check it out, especially since its a great excuse to stay another night at this cheap hotel. I also read there was another cave here with parrots so I figured I would rather check that out, but it was recommended to see it at dusk, so I head to los Posaz around 5, figuring 20 minutes would be more than I needed for this craptastic tourist trap, and then I could head to the parrot cave. Naturally I walked, so I didn't get to Las Pozas till 6, as I got slightly turned around, stopped for some ice cream, and then found the dirt road and began the mile to a mile and a half walk into the unknown.
Las Posaz:
For those of you who dont know me, I am pretty much a kid trapped in a studs body, and Las Posaz was right up my alley! Holy crap, this wasnt art, it was an amusement park. But unlike a US amusement park, there were no guards after you paid at the gate, no ropes, no rules, just pure joy. This English dude basically had way to much money so he pretty much built his own version of the drawings you see from that Escher guy, with stairways that go nowhere, end abruptly, and spiral out of control. Of course some of this is 30-50 feet above the ground, but this is Meixco, so climb away kid. There were paths through the jungle leading you who knows where, so as I still wanted to check out the cave I bee-lined it through this park in about an hour since I had gotten there at 6, and it closed at 6, woops. They said they dont kick people out till 7 or 7:30, but I had no idea how big the place was so figured I would fly through and then once i had my bearings relax and enjoy it. Of course I only saw 10 people, and they were all swimming in the natural pool, so I had this gem more or less to myself. I ran around for awhile snapping pics and climbing things that people should not be allowed to climb. Then I saw it, a pretty good sized waterfall here in this jungle park. It looked awesome, and I knew there had to be a way up there, no way was the English dude Edward James was gonna let me down, and of course he did not.
I found a path leading up… and up, and further up, and continued on to the top…while getting drenched with sweat, this is the jungle after all……score! After some pics, and a rest, I saw another less traveled path going higher and figured hey, so far so good, lets keep going. Further up and I stumble on a wooden tree fort sitting perspicaciously on the edge of a cliff….a tree fort! The only downside was the shoddy workmanship, I was not convinced it would hold up and figured both it and I may tumble down the cliff to my death, but hey, after the crappy tree forts we used to build at my grandmas how bad could this one be? It had a great view of Xilitla, so I climbed on anyway for more pics. It was here I dropped the lens cap to my camera, and of course it bounced through the wooden floor down below, which was the previously mentioned cliff. Crap, that is gone, I hope I dont scratch this lens up. Well, its kind of an expensive lens for a guy living in a van, lets take a look. There it is, sitting on the edge of a piece of wood inches from the abyss. Now if just stick my foot on that tiny tree growing out of the cliff wall…maybe reposition this way, look back for something to grab, nope nothing to grab, ok gonna go for it, success! After driving through multiple Mexican states, standing on the edge of one of the deepest caves on the planet a few days earlier, and driving multiple crazy roads full of crazy drivers, this was by far the most dangerous, dumbest thing, I have attempted yet, all for a crappy piece of plastic. I then ran around a bit more before heading back home…I had so much fun I scrapped the parrot cave completely, as I was beat. So maybe this wasnt an amusement park, but it was by far one of the best things I have done in Mexico since I love unexpected surprises, and one of the pluses to having things entirely to myself the past few weeks.
El Tajin, Veracruz:
Eventually I continued on through the Hausteca area, named after the indigenous people, which means I drove the painfully slow roads. I had read this was a slow route, but assumed it was due to trucks and winding mountains, the usual Mexican slow free roads. No problemo, I am getting to be a pro at passing these guys. The problem down here is the majority of indigenous people do not have cars, and rely on taxis and van transportation to get around. This also means they are all over the edges of the roads here, waiting to be picked up, or walking to their destinations. Because of this the speed limit is 40 KMH (25 MPH). Yeah, 25 MPH, for all of route 85, you could have mentioned that in the guide book dicks. The first trip through Mexico I mentioned topes, which sometimes have warning signs, most times do not, and rather than painting them they are left the normal asphalt color to keep you on your toes.  They can certainly do real damage to your vehicle if your not paying attention, the couple from the RV park we previouslt met had lost their rear axel on their trailer one day from these. And let me tell you, it is hard to pay attention when your taking in the sights, as well as the sensory overload from all of the cars, people, and sign in another language in a new country or city. Well the route I took through Mexico this time has not had many topes, and when they did they were not very bad ones. I had wondered why that was, and thanks to this drive the answer was clear.  Mexico simply ran out of topes. Through this area south of Xilitla there are small indigenous villages every 5 minutes, so there are literally hundreds of topes on this 25 MPH road, it was F'in ridiculous. I get that it is for their safety, and suppose I am glad they are there, but it was terrible. If you ever find yourself in that area, you will be pleased to know that after Huejutla which is a few hours drive they run out again, and it returns to good relatively tope free roads heading out onto the emerald coast.
Finally making it to my next destination around 5pm and glad I had started my day early, I arrived at the ruins of El Tajin, where I was able to camp in the lot for 30 pesos (2.27 USD). Tajin means "lightning" "thunder", or "hurricane" due to its proximity to the gulf its easy to see where the name came from, and got a small display of this that night, though its rained pretty much every day since the rain season began so I am getting used to it. This site flourished from AD600 to 900, and was abandoned around AD1200. The site is known for its square niches, multiple ball courts, and sculptural depictions of human sacrifices. Its a good thing Brady didnt face Eli here, that guy would have been toast as its believed the captains of the losing teams were the ones to be killed at these things. Sorry Brady, rules are rules. Site opened at 9 so I headed over 10 minutes before, and of course as it was a weekday it was myself, and a family of 6. Yup, nothing like having ancient ruins to yourself. I went into speed mode clicking away at everything while there were no people to ruin my shoots. I figured I could go back after I got to the end and retrace my steps at a slower pace. Well, the gods had other plans, and about 5 minutes after I had finished with my picture taking they opened up the heavens on us, so I headed back to the Astro, glad I had taken the speed tour and seen it all.
The only downside was the flying voladores would not be preforming, and i was looking forward to seeing that since its right there and only a small donation of 20 pesos (1.50USD) is expected. Basically its a couple of Mexicans with no regard for safety playing with physics. 5 mens in ceremonial clothing climb a giant ass pole, 1 dances and plays a musical instrument on top while the others twist up their ropes, only to then fall back in a graceful slow descent to the ground, having something to do with a fertility rite, and the four corners of the universe. This was previously carried out once a year, but in the name of tourism its now down 3 times everyday…yay for tradition. Cooled off from the rain I headed to the gulf, Veracruz to be exact, back to the city life.
Of course on the way there I was going a bit too fast, it happens in Mexico, you slowly start to drive more and more like a local.  Next thing I know I have the fedarales on my ass with their lights on, great, this will be the second time I am being pulled over for a legit reason in two trips to Mexico.  There is nowhere to pull over so I continue on, but they stick with me.  Well I finally hit a spot and as I pull over they finally pass me, and carry on down the road.  Turns out a couple miles up a truck had flipped and they were on their way to that, close call for me, not so much for him…hopefully everyone turned out ok, not sure why they stayed behind me though, they could have passed me as no cars were coming from the other lane.
FYI: For those subscribed to emails, you can reply directly to that email with questions or comments.  If you are not subscribed I wont make you, I dont care how many subscribers I have, you can reach me directly at wiley@2guys1truck.com.  Due to various requests you can also checkout my facebook, while I was not a facebooker, I have been adding food, centro, and random bizarre travel pics as I hangout at cafes, slowly getting with this social media nonsense.  Facebook: kjswiley
[portfolio_slideshow]