Mexico: Oaxaca City, and Puerto Escondido
Ok, I normally don't take this blog very seriously, but I suppose if there is a time and a place, this is it.  Thanks to all that showed concern, the list is way too long for here, but it is appreciated.   To all that emailed or facebooked me, its too difficult to respond one by one while on the road, so consider this your thanks, I do appreciate it.  Props to Ed G. for waiting on hold unsuccessfully on two separate occasions with the Oaxacan embassy, I have jumped out of taco lines for less of a wait, dealing with anything "official" in Mexico takes some extreme patience.  I was shocked to see the amount of friends, as well that complete strangers, on sites like facebook, or ones I have never heard of like Reddit, were doing their part to help "locate me".  But here I am jumping ahead of myself, first, moonshine!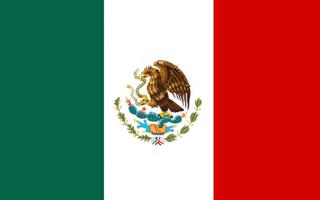 1 US dollar = 13.1884 Mexican pesos
Miles driven to date: back at the car of course!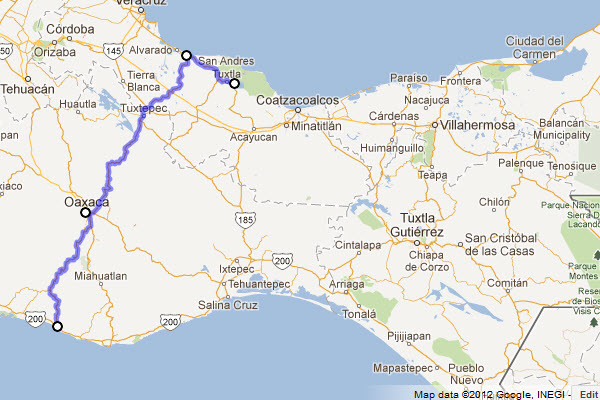 Oaxaca, Oaxaca:
The night before heading off to Oaxaca was a fun, but rough one.  I had spent the evening in Catemaco enjoying the sights, but not wanting to tackle the road back to la Jungle at night I decided to stealth camp in town as I had a good parking spot, though with the heat was forced to open the windows.  Turned out those guys in Catemaco can party, as I was awoken on and off all night until at least 3 am.  I had planned on heading out around 8 as I knew it would be a long day of driving, but at 6 am I was once again awoken to the sounds of people heading to church among other things.  I figured it was time to bail, and hit the road tired, but ready for Oaxaca, the end point of my previous Mexico trip.  I had seen shacks selling liquids of some sort which I assumed must have alcohol in them 30 minutes outside of Catemaco.  I pulled up to one several booths side by side all setup and selling the same things around 7 am.
Turns out they are selling bottles of honey, and vanilla for around 5 USD, and not wanting to try and explain to the woman in Spanish that I had stopped at 7 am looking for some moonshine, I am now the proud owner of a giant bottle of honey.  I am not really sure what to do with it so I figure once I get my hands on some granola there will be a lot of "fruit, granola, yogurt, and honey" mixtures for breakfast.
Disappointing that this would be a sober drive through the mountains, I continued on.  Driving from the north as I was coming from the Gulf of Mexico, I came in on the 175, which is very similar to the devils backbone previously posted about, though with much less traffic.  A winding road through the lush green Sierra Nortes reaching heights of 9600 feet, it is not a surprise as to why Oaxaca had long been isolated from the rest of Mexico.  It was a long day of driving from Catemaco, and being deep in the mountains really gave an idea of what the terrain surrounding Oaxaca is like, as well as a sense that I had earned this drive, unlike when cruising in on the the toll roads we previously took from Puebla.  This isolation is one of the many reasons people love Oaxaca, a city full of history, culture, and tradition.  Last time I was recovering from a rough case of food poisoning, and was unable to explore Oaxaca and see what the city had to offer.  This time would be different, and even though most of this trip consisted of new places, it still felt like Oaxaca was what would be the kickoff point of the trip.  I feel many things have worked out great on this trip considering the last minute decisions, and here was yet another unplanned example of luck, as I had unexpectedly arrived during what must be Oaxacas most important festival, Guelaguetza.
Guelaguetza:
Thousands of people come to Oaxaca to take in the festivities over a two week period for Guelaguetza, and to see the main event where costumed dancers from the seven regions which make up the state of Oaxaca perform their traditional music and dances.  The auditorium holds 10,000 people, and the event is held two times a day on the 1st two Mondays after July 17th, which gives an idea of the amount of people here in attendance.  On the Friday kicking off Guelaguetza I grabbed a beer at yet another cafe with an Australian friend, taking in the sites.  We ditched the Spaniard because she was shoe sopping, and as we are men we dont do that kind of thing.  Well, little did we know what a great decision this would be.  We sat there enjoying another beautiful day in Oaxaca, known for its great weather due to its location high in the mountains.  We sat and did the norm, some people watching, telling the constant flow of vendors we were not interested in their crap, even telling the shoe shin guys my sneakers didnt need a polish, some day I may let them do it, just to see what happens.  We then noticed all the people lining up on all sides of the road surrounding the zocalo.  Clearly there was a parade coming, and we had front row seats for the show…well until the hundreds of people stood in front of our seats and partially blocked our view.  No worries, this was the official beginning to Guelaguetza, and the crowd was full of positive, festive energy.
You could see the pride these people had for this great city, and their great state, as chants of "Vive Oaxaca" would ripple through the many people filling the centro, while the costumed dancers who would be preforming in a few days gave the city a taste of what was to come. Once again it is the little things that make me appreciate Mexico.  We were both pumped when they started shooting off fireworks right there in the zocolo, which hit us, much of the crowd, and even a baby.  Yup, who doesnt love a good Mexican parade.
After the parade was over the city seemed to kick off into party mode.  My friends had seen a flyer for a mezcal tasting festival, and while my drinking days are well behind me we headed off for that.  Due to the amount of people we never did find the Spaniard even though she ended up being at the mezcal festival, but we did find plenty of mezcal…maybe that was part of the reason we never saw her, who knows.  For a mere 20 pesos (1.50USD) entrance fee, you could go from booth to booth sampling all the mezcal you wanted.  There were a variety of flavors, which also means a variety of colors.  I had never seen a pink, blue, or green mezcal before, so naturally I tried them all.
We had planned on doing several laps around the festival as the only limits to how much you drank where your own, but decided that it would be much easier and efficient to just buy a bottle for 80 Pesos (6 USD) and polish that off.  There was of course live music, with a band that definitely rocked.  People were up front salsaing and everyone had a blast, which seems to be the norm for a Mexican fiesta.
The next day was the Aussies birthday, and even though I hadn't previously drank since Jan 1st, I figured this was a good excuse for drinking two days in a row.  After a nice dinner at some random restaurant we all went off searching for the parties.  While walking down the main street fireworks were set off in the sky.  We knew it would be a good night as we figured this must be for his birthday, and even though we had already started drinking before coming to this conclusion, the logic was flawless.  We continued on until we stumbled across a small bar with a live band, playing ACDC of all things, yup, that was all the sign we needed.  The bar was full of Mexicans, and as word spread that it was the Aussies birthday the mezcal started flowing again, and some of our new Mexican friends let the band know so he even got a weird rendition of Pink Floyds Another Brick in the Wall in Spanish as a birthday treat…though I still dont understand what that is all about or how it related to his birthday, but they gave him a shout out and made a big deal of it so there must be a connection in there.  The evening probably went to well for some of the group, as I was the only one to make it to the Gualegetza dance festival the next day.
In case you missed that last paragraph, there was some drinking involved the night before, so I obviously went to the afternoon, not the morning show.  I had read you should go at least two hours before the show if you want to get the free seats, what I didn't read was that the line would be a mile long, and take over an hour to get in.  I like to be one with the people, so rather than sitting up front with the fancy pants rich snobs who paid for their tickets, I reluctantly walked all the way to the end of the line…after contemplating several times trying to cut my way in and seeing if I could play the dumb gringo, but knew I would get caught.  Looking at the line, and flying solo, there were many times where I almost bailed, figuring there was no way I was getting in.  With some perseverance and a little luck, I made it in, and was able to see the festival, though it was clear there were a ton of people who would not be so lucky.
Each group comes out in the traditional costume and performs a few songs with dances.  Then they throw traditional items out to the crowd.  The traditional items mostly consisted of Bananas, Limes, straw hats, chocolate, and plastic water bottles.  Yup, hard plastic water bottles, which someone thought would be a good idea to throw from both the center and rear sections, so you had them coming in from both directions, it was basically a war zone.  I had the pretty girl sitting next to me literally dive onto my lap trying to get a water bottle, but she still wouldnt talk to me after 🙁  I had no idea if she was 25 or 15, so i decided it best not to talk to her either.  When someone did get an item, like a single lime, it was like they had caught the winning home run ball hit by Arron Boon in the 11 inning of game 7 against Boston back in 2003, an event I was lucky enough to see at Yankee Stadium in person, suck it Boston.  Overall the festival was a good time, but I didnt quite make it to the end.  Now, I think I did pretty well considering I was slightly hungover, I made it 3 hours which was about 2 hours longer than my dancing festival limit.  At the 3 hour mark I could not take anymore and had to get out of there, the dancing was nice, but there were a lot of groups, as it ended up taking 4 hours for the festival to complete.
The cement block seats certainly were not helping anything, but overall I was glad I went and saw what i did, it is clearly very important to the people of the state of Oaxaca, and because of that these are the kinds of things I want to be a part of.   I did feel a bit guilty leaving when I know others missed out on getting into the festival, but I waited until a bunch of people on both sides of me left, so clearly I was not the only one over the dancing.  I also didnt want to deal with the thousands of people leaving at once in the darkness of night, as I have read pickpockets can be a minor issue up on that hill, and I didnt want to have to hurt anyone tonight.
Monte Alban:
The group began to split up after the weekend.  When everyone was doing their own thing I went to check out Monte Alba as they had already been. I had hoped to check out the first time in Mexico but was unable to.  Just 6 miles outside of the city the ancient ruins of the Zapotec capital Monte Alban are believed to have been occupied since 500 bc.  I headed up to this spectacular site (decent signage this time), which combines the ancient buildings with spectacular views of the city below.  There was fog rolling in and out throughout the morning, which added to the mystical feeling.  It is believed that these people may have been the 1st within Mexico to use a form of writing, as well as a written calendar.  This is definitely a must see site if you are in the Oaxaca area, and once again only something like 5 USD to visit.
The Aussie, Spaniard and I met back up and spent a few days checking out the city, and local markets as we were the last of the group left.  The food in the entire state of Oaxaca is fantastic, so I made sure to get my fill of that.  There were three additional Mexicans in our group who had already taken off, but they certainly added to my Oaxacan experience.  My time in Oaxaca has been amazing, and the people I met were directly responsible for that.  One thing I really appreciated was that the Mexicans really got what the trip for me was about, and they appreciated the fact that I would be willing to travel alone, through their country.  I have spent several weeks in England, and while a great country, I doubt I will go out of my way to return.   Mexico on the other hand as I have previously said is a country I cannot wait to return to, even before I leave it.  They are very lucky to live in such an amazing place, and while the beaches, mountains, desserts, and rain forests are all amazing places, it is the people that make Mexico what it is.
Puerto Escondido, Oaxaca:
As there was a taxi strike of some sort, which somehow affected the buses, the Aussie was stuck in Oaxaca unable to leave for 3 days.  As the strike came to an end I did some rearranging and cleared out the passenger seat since the Aussie was heading to Puerto as well and gave him a lift, which worked out well as he knew all the spots as he had come from there a few weeks before.  While headed south there was a roadblock setup, I assume it had to do with the recent elections as people dont seem to happy with the results, saying that it was once again rigged.  Guess the US isnt the only one with this problem.  As we sat for over an hour, we got to see entrepreneurship at its finest.  Out of nowhere this guy with a box of donuts appears and hops into the military vehicle, where he instantly made a killing.  I snapped a pic of this fantastic even as it unfolded which the military guys did not like.  Instantly a tarp was setup to obstruct eyes on what was happening.  I am not sure if it was because there were not enough donuts and they were greedy, or if they would get in trouble for buying donuts while on patrol or wherever they were headed. 
Eventually we made it to down to the hot and humid Puerto Escondido.  World famous Puerto Escondido, also known as the Mexican Pipeline, was "flat"as the locals kept saying.  I was hoping to see 25 ft monsters pounding down on the shore, but instead arrived with what probably 6-8 ft waves crashing down on the shore.
Puerto is one giant beach break, often closed out, though when you get a good wave it can be great.  A deep water trench off the shore is the reason for this no none sense wave, as the swells travel miles before hitting the beach while barely losing any of its original power.  Realistically it appeared you spend most of your time dodging the giant waves and when you grab a good one, you be-line it for the end, hoping you and your board makes it in one piece, well that is what it looked like from the shore anyway.  I did return later on my way back through to see some larger waves, but still nothing like what I had hoped to see.
I quickly realized Puerto wasnt for me, but there are many small beach towns in both directions that were.  In one particular beach town we were staying at my Aussie friend bumped into different friends from home randomly several times.  One he knew was living down there for part of the year, but the other 2 sightings were within a week of each other, and were of the "I just saw him walking by" kind of deals.  This worked out great as we usually had an entourage of 6-10, though that is definitely bad surfing etiquette.  Great for hanging out when the surf is small, never good when hitting the water, so we made sure not to all paddle out at once as no one wants to be surfing and see a group of 10 roll up.  Seriously, these bastards are everywhere, FOX needs to relax on those Muslims, its the damn Aussies that are taking over the world.  Due to this I pretty much gave up on Spanish for a few weeks.  The obvious downside to hanging with the Aussies was that not only has my Spanish not improved, but I am pretty sure my English has gotten worse.
We spent a lot of time hanging out on our sketchy balcony overlooking the river when the tides were not favorable for the surf.  I think we hit 12 people one day and it didnt collapse, but it had to have been close.  There were some local kids around the age of 10 fishing everyday with some makeshift ghetto reels though catching a good amount of fish, which made for some good entertainment.  2 of the Aussies finally walked over and gave it a try, unsuccessfully.  After 30 minutes another local kid came out and stood next to them, catching a fish first cast.  They also reported that in plain view of them, beside a tree was a couple passionately in love, trying to conceive, not caring at all that they could be seen be them, or the kids.
We saw a few other adults in the water who appeared to also be passionately in love, and a couple of topless chicks made a few appearances occasionally, so there was plenty of action on riverside to keep us entertained.  The Aussies who had fished left for a few days for a side trip but when they returned, they showed up with some brand new shiny fishing poles.  Turns out the problem wasnt the equipment, as they were still unsuccessful.  I also rode my first collectivo, a truck which is like a taxi, though with a set price which is ridiculously low.  The collectivo was packed, so I got to stand on the tailgate with another kid hanging on and ducking branches as they tore down the dirt roads through the woods, aside from the Astro I think it may be the only way to travel.  There are no pictures outside of Puerto as its clear these places have been, and will continue to blow up.  As I hope to return someday, and not see a resort in its place, I will not be giving anymore information than what is here.    The places are not secret, but also not well known, so if your looking to surf just head down to the Oaxacan coast, you cant go wrong, though this time of year has some large, powerful waves.  Keep in mind that places on the coast from Michoacan to Chiapas can have some problems with banditos, so use caution.  Some of the coastal roads are over an hour from the main road, on dirt which require 4×4, so you are pretty far from help if problems are encountered.  They are usually petty robberies, a result of a combination of the poverty in the area, as well as a way to keep an influx of surfers from coming to the area.
OK, so I thought I was done with this post, and had enjoyed not dealing with anything blog related for over a month, that was until I returned to civilization to find out that everything went to hell and I was a missing person.  Sadly (in terms of the awesomeness of my blog) there is not much more to the story.  Just what I wanted after weeks without internet, finally getting connected and instantly bombarded with an enormous amount of emails and facebook messages from all kinds of people I did not expect to hear from.  I am not sure how far it went, or exactly what went down, and who did what, but I was told, and saw, that facebook posts had spread across peoples pages about an American missing in Mexico with a link to my blog with pics, van description, ect, which then spread to reddit and who knows where else.  Mexican embassies and consulates were notified by several people of my disappearing act, and my files were sent over to an office in DC.  Tears were spilled as my parents thought they lost their favorite and were stuck with the other two less awesome siblings.  As I was chilling on a beach enjoying life this news was slightly embarrassing, and more so annoying, as I not only informed my family of my plans as I knew the place I was going to did not have internet.  Luckily things in Mexico move much more slowly, and I doubt they have much of a system in place, so I am pretty sure I could still be "missing" now and not had any problems at the borders from officials as they had no clue, though I am glad I happened to get in touch with my family when I did, so things did not get any more out of control on the US side.
In my families defense we recently had a relative pass away, so it has been a bit of a stressful and hectic  period back home, full of long days getting things in order.  Even though I took the precautions necessary to avoid any freakouts in my absence, my words went unheard.  I was a bit pissed I had to jump on facebook to tell people everything was fine, I am an adult after all, but at least I am not saying it to military police or government officials I suppose.  I have to admit, my badass level would have certainly risen had a helicopter full of armed men came barreling over the mountain dropping tear gas and repelling down lines for my rescue in front of the Aussies as we sat by the river watching life go by.  Now when shit really does go down, I am pretty sure no one will come to my rescue, as I must be blacklisted from whatever groups the US has to rescue people after wasting their time on this occasion.
So, I am headed down the coast to Chiapas, then either heading north, or south, not sure yet.  If you do not hear from me please dont do anything, at all, just leave me alone.  That is part of the purpose of this trip I suppose…..to get away and enjoy myself.
Also, if you haven't figured it out, while I have kept the stories up to date, the rest is a waste of my time and effort, its just not what this trip is about for me.  I do not have a budget, do not know what I started with, and dont watch what I spend while traveling.  I basically just keep an eye on my finances so I know when my bank account runs dry and its time to start walking, or strippin for cash.  This is also why I dont think I will be going to South America this time around.  I have no budget whatsoever, so it may be a good idea to work for a few months before taking the jump across the Darian Gap, as I have mentioned you have to ship your vehicle across which costs a decent amount of money, so you only want to do it when you know you can fully enjoy it.  I also figured one month of Mexico would be sufficient this time around, but I was way off, so have obviously spent more time and money in Mx than planned.  I will not be keeping track of gas, lodging, or much else, though I will keep giving examples of prices to give you an idea on what hings cost in each location.  
[portfolio_slideshow]