Mexico: Mazatlan, Durango, and Zacatecas
According to FBI crime statistics, 4.8 Americans per 100,000 were murdered in the US in 2010. The US State Department reports that 120 Americans of the 5.7 million who visited Mexico last year were murdered, which is a rate of 2.1 of 100,000 visitors murdered in Mexico. Lets say that again.
4.8 Americans per 100,000 murdered in US
2.1 Americans per 100,000 murdered in Mexico
I am safer in Mexico than my own country, ok maybe that is not entirely true, but interesting stats nonetheless.  If your afraid of visiting Mexico, you should be afraid of getting out of your own bed, its a dangerous world out there.
I mention this because the US basically said stay the F out of Mexico, it is too dangerous with the banditos, cartel members, and tequila, though they are probably spot on about the tequila. This naturally pissed off Mexico, so the US, aside from giving them guns as a present in project gunrunner, revised that, to only about half of the states in Mexico, which seems just about the same as "stay the F out of Mexico" to me. They say avoid any unnecessary travel from region A to B, but if your trying to get from region A to B, that IS necessary travel.
In the combined 5 or so months in Mexico I have driven through the following states on that list:
Baja California (north): Check
Durango: Check
San Luis Potosi: Check
Sinaloa: Check
Sonora: Check
Zacatecas : Check
Aguascalientes: Check
Colima: Check
Jalisco: Check
Michoacán: Check
Nayarit: Check
Veracruz: Check
Now I am making progress.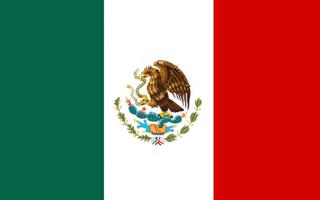 1 U.S. dollar = 13.4638429 Mexican pesos
Camping/hotel cost for this section: 106 pesos (7.42 USD)
Camping/hotel total: 186 pesos (13.86 USD)
Note added maps to give an idea, the maps shown in red are what Paul and I did roughly in 2011, and blue is the current trip.  They can be found under the "Route" section.  
The 16 Hr. ferry ride across the Sea of Cortez was uneventful. I made my way to the "salon" where a movie in English with some sort of Asian subtitles played, all the while some dudes silhouette was in the lower screen from the bootlegged recording. Not sure why on earth they would show a movie in English, as I was clearly the only one on the ship who could even tell what was going on, and even then I wish I couldn't. Think it was called "Battleship", and it sucked. Then I got to watch "Battle of Los Angeles" in Spanish, and it also sucked. Good work Hollywood, keep raising that bar. After that I couldn't take anymore and made my way back to the Astro for some guitar playing, reading, and then to sleep where I had dreams I was falling off the boat. That may have been because they wedged me in sideways on a ramp at a terrible angle…I tried every position I could but they all sucked! Luckily, we didn't sink and eventually made it to Mazatlan, so I had that going for me.
Mazatlan, Sinaloa
Not much to say about Mazatlan, another one of those "been there done thats" on the 1st trip. This was however the first time I have felt uncomfortable in Mexico regarding the military. After sitting on the ferry for over an hour as I was the 3rd from last to get off due to where they crammed me in, I was ready to head to the Malecon. Not so fast senior, these military guys stop me before I get out of the ferry terminal, pretty sure they were just bored since I already had to go through customs to get onto the ferry. The guys were nice, joking around, looking at my stuff, then it took a turn for the worse. The outgoing one mentions I have no girl with me, and suddenly starts dry humping my passenger seat. I made a joke or two I will leave out here, he does this 3 or 4 more times over the course of 10 minutes. I am pretty sure he threw his leg up on my dash at one point, which is rather impressive considering I lifted the van. They finally let me go, and I slowly drive out of the empty port as I was the only one left around. I figure this is what a walk of shame feels like. So, that was my welcoming to Mazatlan.
The main drag was busy, full of Mexican tourists, with plenty going on. It was however, extremely hot, and that is saying something after the deserts of Baja California in June. After the ferry ride I needed a shower, so I went off searching for an RV Park to settle in. I had read there were pretty much no RV's headed south this time of year so knew I wouldn't have to worry about them being over filled. Well, the 1st place I tried was locked up and closed. Ok, lets try where Paul and I stayed, a bit pricey, and the guy wouldn't budge with us on price, but it was right on the beach and I wanted a shower! Hmm..locked up and closed, next. 3rdtimes a char….closed. WTF, this place even had the gates open with the owners sitting in the office. I walk inside the office, say hello, duck as a bird flys over my head, all the while they just quietly stare at me, so I ask how much. Sorry, not open. Well I thought to myself, ok, why didn't you just say that as you stared at me in silence, maybe you should do something about that bird with that free time you have sitting here in a closed RV park. But if your here, and the parks empty, why not take my money and let me spend the night? I didn't ask any of that as not much ever makes sense in Mexico. Well I realllly wanted that shower, so finally I found a place on the 4th try, San Fernando RV Park, only 100 pesos a night (7.42 USD). You have to be kidding me, that is crazy cheap for Mazatlan, I think we paid about 30 USD last time. Only downside was they locked the gates, including the pedestrian  doorway, so I had to ask permission to get out when I wanted to leave, as well as ring the bell to get back in, and of course I was the ONLY one in the park. If I had gone out and came home drunk at 3 am I probably would have scaled the fence rather than ring some bell to wake up the dude.
After a night there I set off to head for Durango, which was several hours of driving a no nonsense road. First I stocked up on supplies, then filled up the tank, called home to catch up, did stuff on email, oh crap its 1pm already, too late to head out. Not wanting to go back to the RV Park and ask permission to enter, I decided its another night of stealth camping, this time in the histoical centro. The next morning it was time to tackle El Espinazo Del Diablo, the devils backbone. For those of you who have been following from the beginning, this is the road Paul and I decided not to tackle based on a conversation we had with a guy at a RV Park, as we didn't want to go flying off the side of a cliff that early in the trip. This time I have discovered how bad ass I am, so it was on.  
Victoria de Durango, Durango:
The Road to Durango, El Espinazo Del Diablo: The Devils Backbone. 1st of all, this is a dangerous road. Ranked in 2010 as the 19th most dangerous road in the world, over 200 kilometers (125 miles) of road that was nonstop hairpin turns reaching elevations of nearly 9000 ft according to the GPS (Denver is 5280 feet for reference) all while on the edge of a cliff with semi trucks using your lane around blind turns rather than crawl down the mountain at a slower pace, oh, and don't forget the fog. Seriously, I honestly don't think there was a single point where a straightaway of more than 25 yards existed, it was unreal. That said, it was relatively a piece of cake,  lesson learned, never take advice from a guy driving an RV. The road is in great shape, and its paved, the real problem is the mother truckers.  I had some closer than I would have liked calls, and see why it is such a dangerous road. Had I been in the wrong place at the wrong time, like 30 seconds here or there, I would have been messed up.  Its very busy with the construction trucks as they are building toll roads to bypass it, but as I have previously stated I don't take toll roads. I didn't drive from San Diego to see Mexico from a highway.  The road has also had a few instances of robberies in the past, but I had read it was pretty heavily patrolled by the military now so no longer a problem. I went through 1…1 checkpoint during the entire journey from Mazatlan to Durango, and they just waved me through. Thank guys, I feel safer already.  Eventually, I made it to Durango, a city I had missed and one of the few regrets from the 1st trip. The other 3 nearby regrets being the Californis Grey whales in Baja….someday I will touch one of those bastards, the City of Zacatecas, and Morelia. Well, I am not skipping anything this time (Uhh, yeah, next time Morelia, but that part of the story can wait)
Ignore the weird hand gesture from the cameras timer (as well as the awful hair), here you can see a perfect example of a trucker haulin ass around a sharp curve using all of the road to his advantage, going into my lane.
One of the things Durango is mostly known for today is the wild west movies Hollywood shot back in the day. I saw some cowboys walking around, and driving into the city across the plains definitely had that wild west feel. Google told me this is where John Candy died shooting a movie. I have also read they are no longer making movies there anymore, though I had read that the last movie made was with Salma Hayek. I looked, but was unable to find her, I do need to practice my Spanish after all and could use her money. I had also read both Durango and Zacatecas were cities which see very few tourists from the north, and they were right. It takes a bit of adjusting walking around a new city in Mexico alone and being the only American in sight. In reality though, no one really cares, everyone goes about their business as usual, and obviously gringos do visit there, just not the day I did. Durango had a great feel, and awesome weather after all the heat I had been dealing with, seriously there is a reason I have only seen 10 gringos in all of my travels through Baja and the mainland, who goes to Mexico in June, I did say I was a genius didn't I?   At 6,200 ft the cooler temperatures were a pleasant relief.   The Centro itself was much smaller than I had thought it would be, though the main roads away from there have all the fixings, Home Depots, Burger Kings, Walmarts, Autozones, you name it, that goes for every decent sized city I have been through down here.
I stayed in the centro area to people watch, it's what you do in these cities. Its a very clean, and nice centro, and tons of people were out and about having a great time. The main street full of shops had tons of people out as it was Saturday, hey I finally knew what day it was! I then hiked up the hill where the teriferico (cable car) was. I do not know whos idea it was to build one in this town, that dude must have been super lazy as its an easy walk up, but I will tell you, if you are looking for somewhere to take your girl for some HEAVY making out, apparently that's the place. If you didn't know, Mexicans love making out in public like its been years since they saw their loved ones, and they don't hold back. I believe the kids these days call it sucking face. Sadly I lost all of my pictures of the centro and main drag full of people having a great time.  Another night of stealth camping 3 blocks from the cathedral, this stuffs too easy, might as well do it while I can, and then I headed out to my next stop, Zacatecas.
Zacatecas, Zacatecas:
Mmmm, Zacatecas 62 degrees, 68% Humidity, rained heavily everyday for 20-60 minutes, and it was great. I can't believe I wore jeans, a hoodie at times, and was chilled several times through out my stay. Surf, what surf, forget the beaches, I may never leave the mountains, this is great weather. Zacatecas is amazing, and while Durango was nice, it blows it away for me. Zacatecas was THE silver mining town of its day. El Mina del Eden is still in production today, and you can take a tour to the 4th of 7 levels, so I did. I figure worst that happens is I get stuck down there for 2 months and they make a movie about me, it worked for the Chileans. Nothing eventful happened so I am still not famous, sigh. The tour was ok considering they didn't have an english speaker for me, I told them that was fine I had read about it and just wanted to look. Since it was a weekday, and June, it was rather slow. Luckily there was a small group with me, otherwise it would have been a bit awkward, as there was a teacher, 5 kids, and myself. The kids were hilarious, they were all scarred to be in the mine, holding each others hands and articles of the teachers clothing. Then we took the elevator down and they freaked out, I am pretty sure they had never been in an elevator before, I wasn't even sure they were going to walk into it the way they were acting. The mine was cool for the price, but it didn't blow me away. I think the basic story is the same, the Spanish from back in the day were dicks, came over and enslaved the men, women, AND children to force them to mine the silver while the Spanish got rich. Obviously many died from diseases and accidents, see who needs a tour guide. The mine had mannequins to show how it was done, you can see a pic of a kid dangling over a deep crevice in a cage. They also just used ropes and ladders to get up and down, it was pretty nuts.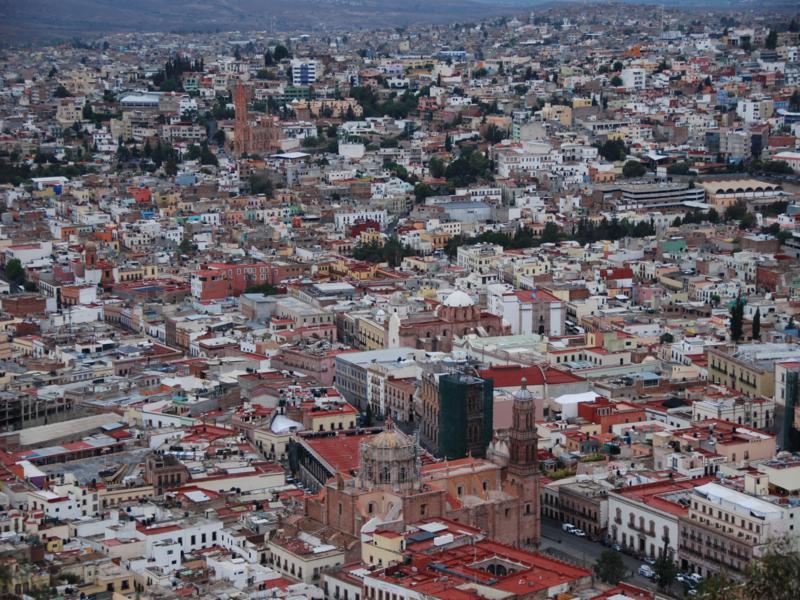 This town also has a teriferico, and whoever came up with this idea was a genius. I love walking cities, so I hiked up to the top, but I must admit after living at sea level since what, 2005, this city at 8.000 feet was a bit of a workout. After getting some great shots of the city from above, and catching my breath, I hit the other sites, the catedral, aqueducts, plazas, etc. This city would be perfect if they just banned cars, its a great city to walk around, and is reminiscent of Gunajuato, except there are tons of cars here which not only ruin all the shots, but make parking a bit difficult. I don't know if I got lucky, but both days I found awesome spots to stealth camp, 1st 3 blocks from the cathedral, and the second night right by the aqueduct…now that's location. Just make sure to bring earplugs, lots of cars and noise. I also spotted a great looking place to eat by the 1st nights parking, but had already eaten, so planned to go the next day. I then read in lonely planet that this was their recommended place, "Los Dorados de Villa" and it did not disappoint. This place is a few blocks away from the cathedral, and apparently always locked, so you have to ring the bell to get in…unless your smooth like me and just walk right in as someone is leaving, yeah I am a rebel. Its a small place broken into several room, and the room going into the bathroom has a tree with some birdhouses, and birds, what is up with these indoor birds in Mexico!  If you recall I got really sick back in Mexico city, like Poltergeist sick. I decided I don't want to deal with that in the hot jungles as I head south, so rather than play it safe ordered up some soup, and agua de horchata to see if I could build my tolerance slightly, as everyone knows you can't drink the water down here, and need to be careful of the foods. I forgot to order with no ice, and am pretty sure thats what got Paul when he was sick, but went for it, if I am going to get sick I want it to be here where I can grab a nice hotel with some cool weather. I also grabbed the enchiladas valentinas which where good though not my typical go to choice. All of the above for only 150 pesos (10.90 USD), which was pretty good for the amount. Also note, none of my prices include tipping, that is up to you to decide. Still deciding my next move, I told you I fly by the seat of my pants. Ready for some surf, but definitely not ready for that weather that comes with it.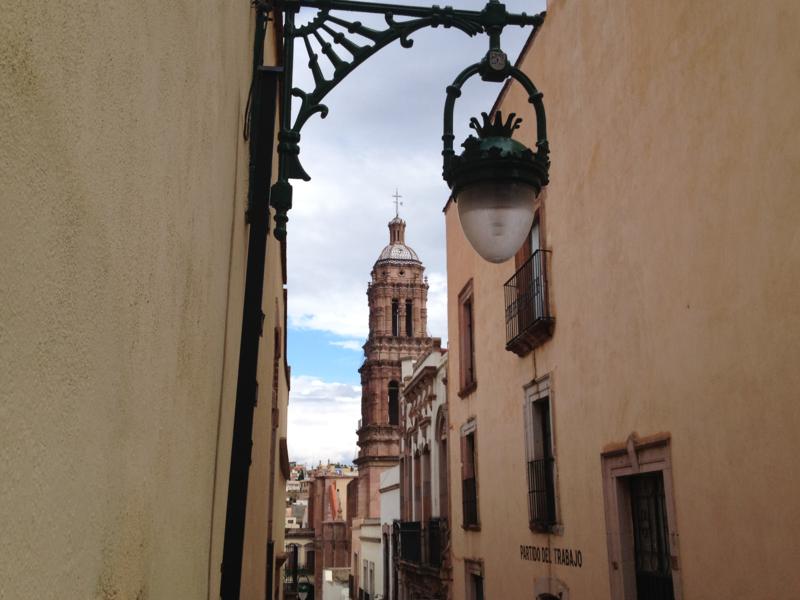 Also, if you havent noticed, I am the self proclaimed king of run on sentences, I dont use apostrophes, and only occasionally use paragraphs. I hate those things, plus I am on vacation here, get off my back.
[portfolio_slideshow]