1st: Safety.  I have the Mick watching over me, and some Jesus bling hanging from the mirror to help blend in down here.  Turns out my love for God is too great, and the weight of the bling brought the mirror down, Jesus Christ!
Resources: Click these at your own risk, you cant shake the hunger
Expedition Portal: A site dedicated to overland travel, all you need to know, and more.
AstroSafariVans: These guys can fix everything and anything Astro
ADVRider: Guys doing it on dual sport, now that is hardcore.  where I first got this crazy idea.
Health: I got the following shots from Passport Health: 50$ Office visit
Typhoid: 95.00 need booster every two years for those who remain at risk
Yellow Fever: Certificate reqiured for certain countries in South America– 125.00 need booster every 10 years for those who remain at risk
Twinrx Hep A/B: 15.00 (160.00 at passport health) In SD, I was able to get the 3 required shots for a grand total of 15 bucks. They provide them at STD Clinics, so for 15 you can get the shots and tested for the HIV. These are a very good idea if you spend time in the water (surfing), not sure if other parts of the USA offer this, but ocean water can be nasty which I believe is why this service is offered. You get your 1st shot, go back 2 months later I believe for your 2nd, and then 6 months (or in my case a year, oops…but does not matter) for your final shot.
Now the Astro: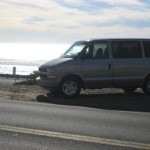 2004 AWD Chevy Astro.  The Astro is a great compromise on size and strength, as it is built on the same subframe as the S-10 truck.  I love the Astro, thoughg I have grown to HATE Chevy.  I had no maintenance history from the previous owner, so I changed all the fluids, and various parts before departing, the majority being front end parts as they tend to wear out.  All procedures and a wealth of additional information were taken from the AstroSafariVans site listed above.
I do not receive any money for this site, nor have any sponsors, below is a brief unbiased list of what does or does not work for me.
Fantastic Rooftop Vent: If your living in a vehicle, this one is a must!  I cannot believe how much cooler it feels inside, be it mentally or physically…the point is it feels cooler!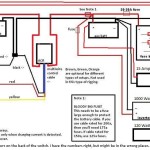 Dual battery electrical system with 120 watt solar panel:  Powers fridge, roof vent fan, laptop, camera batteries, as well as rechargeable batteries.  More power than I need, which is nice.  Diagram is below, I think there was a fuse between the solar panel and controller as well.  Diagram courtesy of DWH over on expo as I dont know jack about electricity expect it hurts…that one I learned from my father.
Overland Vans 2 Inch Lift.  This raises the body and allows me to add larger tires for additional clearance.  Many go with a 4 inch lift, but that changes the angles up front and wears down the front end parts quicker, I wanted to avoid this so stuck with 2 inches, I am not sure which I would prefer, as i could use the additional clearance for the Topes, though am glad I dont have to deal with the headache of finding parts in South America sooner than necessary.
.
Tires: BFGoodrich AT/KOs 235/70R16 Tires (Requires minor trimming to fit after installing the 2 inch lift).  A good balance of off road and highway tires, though some complain about performance in heavy mud, I have yet to test that, but they have performed well during my offroad adventures.
Fridge and Slide: ARB Fridge-Fantastic, who doesnt want food, and cold beverages when in the sweltering jungle.  The fridge slide is not something I prefer, and over the year it has rusted.  The good, I can throw ice in the fridge and when it melts I can open the draincock and drain it while extended out the back.  the bad, it adds additional height which meant a higher platform, and thus less headroom, as well as needing to open the rear doors to access, not stealthy.  I have since modified the bed platform so the high is no longer an issue, though I regret the placement as it is difficult to access from within the vehicle….thus why I kept the slide, for external access as well.
Thule Roof Rack.  Not thrilled with this, since the Astro didnt have rain gutters I bought this thinking I could attach it without drilling.  Turns out it was only for the width of the front doors, which means about a 12 inch span, who wants that.  So I drilled, and made these work.  Would not recomend it for an Astro, too much work, but now I am able to attach the solar panel.  (This rack made the installation of the roof vent very difficult due to the location).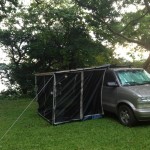 ARB Awning/Mosquito Net.  A must have for solo travel.  We tried the tarp and ropes which is ok, but a pain, no way I could do it alone.  I use the awning all the time, the screened room did not get much use.  Now the zipper has broke on the screened room, so I am deciding if I want to fix it and keep dragging it along for minimal use, or if I should cut out some window screens and ditch the big, bulky room.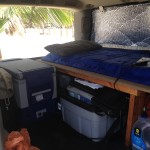 Built a platform to sleep on with free wood from craigslist.  It works, but is too heavy in my opinion, will scrap it and rebuild after the trip.  The carpeting is a must though, adds some additional padding for my air mattress and foam mattress.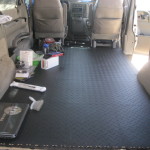 Removed the carpet and replaced with these rubber tiles.  I purchased them online at a cheaper rate though than can be bought at Lowes.  I will do this with any future van as I am constantly removing sand from the van, not to mention the mess water from the boards/wetsuits….or the occasional spilled beverage would prove to be with carpet.
I tinted the front windows to help reduce those evil UV rays, and keep the van cooler, as well as added vent/window visor things so I can leave the windows open in the rain while in the van.  Obviously makes it harder to see in which is a plus, though dont go too dark as Mexico is cracking down on tint due to the Cartels using them.
Installed reflectix in ceiling and behind paneling, to reduce temps in the heat, as well as keep in warm in winter.  Also used the relflectix as curtains to block light and peering eyes.  The original velcro dis not stick to glass well due to the heat, the glue melted and streaked down the glass after a few months.  I have upgraded to the 3MSJ3550 velcro I found online, a bit pricey, but made to withstand the temps.  I use the heavy duty velcro on the window, and the normal stuff on the curtains, as it would be impossible to remove them constantly is both sides had the heavy duty velcro.  This solution worked great for the remainder of thr trip, the downside is you need to store the reflectix curtains somewhere when not in use, so will probably look for an alternative in the future.
Contact me with questions, wiley@2guys1truck.com