Mexico: Campeche, Uxmal, Merida, and Cancun
Welcome to the Yucatan, a part of Mexico I had every intention of skipping.  For me the problem is Cancun, I hate Cancun, everything about it, and I have never even been there.  Another drawback is the heat, its hot here, so hot that on the very first day in the Yucatan the heat melted every single piece of velcro I had on my windows, leaving my windows a sticky, curtainless mess.  Well, if you can handle the heat, and avoid Cancun, it turns out the Yucatan actually has a lot to offer.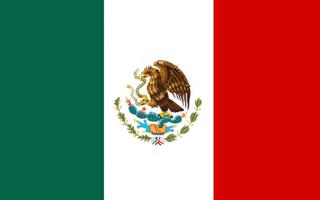 1 US dollar = 13.1899 Mexican pesos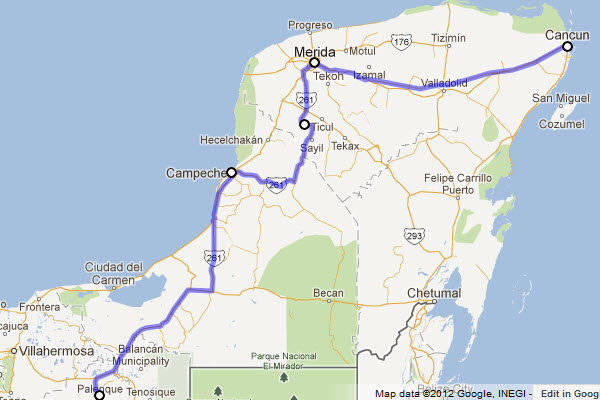 Campeche, Campeche:
Not much to write about Campeche.  It is nothing more than a stop over to get to Uxmal, if it is even necessary.  I drove in expecting this city to be nice, as it is another of Mexico's Unesco sites.  The centro is surrounded by a giant wall made of limestone, of course built by indigenous slave labor.  The wall took over 50 years to build, and was to protect the city from pirate invasions, arghhhhh.  The buildings have been restored, and are painted in bright vibrant colors giving it a mixture of Caribbean Spanish flair, and its a pretty nice looking place with some good photo ops.  I was hoping the night life would be good as it was a Friday, and my plan was to stay 2 or 3 days until Sunday or Monday so I could hit the Uxmal ruins on a weekday, to avoid the Cancun crowds.  I tell you this place was dead.  It's pretty in the centro, but the majority of buildings do not have any lights on inside at night, I don't think anyone is ever home.  
There was nothing going on, and the busiest restaurant I could find was once again Burger King.  Unfortunately instead of moving on I had taken a siesta in the afternoon assuming Friday night would be going off, so didn't realize this until it was too late.  I spent the night eating at Burger King, and then salvage the evening played some guitar on the slightly used malecon while watching an awesome thunder storm off in the Gulf, before proceeding to Uxmal the next day. 
Uxmal, Yucatan:
As luck would have it I once again had no idea of what day it was and had actually ended up in Campeche on Saturday night, so I really arrived at Uxmal Sunday evening, which meant I would be going Monday so less people!  Keeping with ancient Mayan tradition, Uxmal has been setup with a super high-tech light and sound show, which is part of the ticket cost….a whopping 177 pesos, very high by Mexican ruins standards.  At least on the bright side the locals get in a bit cheaper, though I don't think it was anywhere near the standard 57 pesos I had seen at every other ruin site throughout Mexico, even they paid a lot here.  You can blame Cancun for the high prices, as all major ruins out here are 177 pesos.  I was able to camp in the lot across the street from the ridiculously expensive restaurant that served extremely small, bland portions.  
The cost to dry camp was 131 pesos, there are no facilities, but it works out great for an early start into the ruins the following morning.I bought my tickets that evening and headed to the lights show as they are good for the show that night, and the following day for the ruins.  There are electronic translators available pretty cheap, but I didn't realize that at the time so missed most of the story, but it was a great way to get my first sights of Uxmal, as myself and maybe 50 others watched the 45 minute show.Camping here also let me get in at 8:15 when the gates opened the next day, which is pretty good for Mexico as that's only 15 minutes later than it is supposed to open.  This allowed me to enjoy the ruins with only 2 other people anywhere in sight, before the tourists busses started to arrive between 10-11am.
Uxmal is in great shape compared to other ruins I have seen, and had elaborate stone carvings on all of the buildings.  There were also dinosaurs running around everywhere, so it was a pretty cool place to visit, though once again its tough to get into ruins at this point, but these should be seen if in the area, and were in some of the best shape of all the ruins I visited. 
Merida, Yucatan:
I then headed north to Merida, a popular destination with the Europeans from what I have read.  While driving into Merida I encountered the most bizarre police checkpoint yet.  I was asked a few standard questions, and then asked to pull over, nothing new here as I have gone through countless checkpoints.  I pull over where another cops talks to me, and asks me to pull over even more, behind the police building temporarily setup under the overpass, and conveniently blocked from the camera they had setup.  Still no big deal, but I am now out of sight of most of the people going through the checkpoint, I think to myself "Oh, its going to be one of those checkpoints…here we go.  It's the usual where are you from, what are you doing, license and paperwork, ect.  He is obviously not pleased with my expired license and passport which is my go to as they are known to keep them until you pay your ticket/bribe, so I reluctantly get the good ones out.  This is the first time I have had to get them in all my time in Mexico.  This guy makes it a point to remember my name, and is overly friendly once the paperwork is in order…which can be taken either way here in Mex as I have met tons of great cops, so still no red flags but is pretty suspicious.  I have been leaving my guitar in the front seat rather than dragging the case out to put it away, so he tells me he plays and grabs it, where he begins playing me a song.  Now he isn't the best guitar player, but neither am I so I let him give it a go, he should probably work on his chords a bit more but theres a bit of music in there somewhere.  We are only about 3 feet apart now, and suddenly he starts singing, which I didn't see coming considering his skill level.  I give him a nod and say hes pretty good assuming he would put it down, but no slow down amigo, I am treated to a full, and awkward, authentic Mexican serenade on the side of the highway.  Finally finishing his masterpiece he put down the guitar, clearly impressed with himself.  It was now time to get down to business.  He must have asked me over 10 times if I did drugs throughout his search.  Not if I had them, just if I did them, or had ever tried them, staring at me as he asks, grinning and giving me the nod cause all Americans must do drugs.  He then asks me if I have friends.  Confused, I ask if he means in Mexico, he says yes so I say no, I am travelling alone.  "How about America?"  Well, yeah sure I did before I started the trip and lost all touch with the outside world.  Do they do drugs?   I laugh a little when I see what he is getting at and say no.  He keeps asking, and searching, and I am getting the impression his overly friendly attitude which is slowly fading is so I wouldn't realize that he is not the most honest policeman here in Mexico.  Eventually he pulls out my empty cup holder, and without a word stars at it for a good 30-45 seconds.  Finally he asks, "What is this?"  He holds it up to me and points inside, but I don't know how to say empty cup holder in Spanish.  Turns out he is implying the dirt or crumbs inside must be drugs, and he is slowly using more and more intimidation in his search process while this is occurring as his demeanor changes.  Eventually he puts it back and asks if they have dogs in the US.  Now there have been a lot of random unrelated questions at the same time while this is all going down, so I play like he is talking about pets and tell him I have 2, even though I don't, and make up some really girly names.  He looks impatient and asks about police drugs, so I then say yes.  "We have them here too" he says, and gives me the stare and grin look again, almost insinuating they are on the way.  At this point the search has gone on for 30 minutes, well past my previous record of 5 minute searches, so my response was, "That's good, I bet your searches go much faster with the dogs."  He has no response to that one and continues poking and prodding around my front seats, and asks if I have a knife.  I tell him I have a pocketknife in the door, as he is bound to find it.  He grabs it and says "Oh, this is no good in the Yucatan, I need to take it for your safety, I am sorry.  Not for me, I take it to the police station, there are bad people, someone can cut you" as he makes a slicing motion over his throat.  Now I figure this is bullshit, but have looked into it previously and am aware there are tough laws on weapons, including knives, in Mexico.  I have also read countless reports of travelers who carry much larger hunting knives without any problem, as they have been told by the guys at the military checkpoints that they are more worried about drugs or guns, though it can be an issue if your carrying it on you in cities, and again I have yet to have a problem from anyone else.  The US travel site does says not to take a knife with you, but the also say not to drive through Mexico, so that advice is clearly for the travelers who fly in.  Plus, this is a Leatherman, and was in my van, not on me.  It is more of a tool than a weapon, and is clearly for camping.  I don't say anything to this as I don't want to piss him off until the search is done and play dumb not understanding his Spanish…so he leaves it on the seat.  A few more stupid questions from this guy and eventually he is happy with his thorough search of the fronts seats, and decides that there probably are not any drugs in the remaining 75% of the van that he never even took a look at.  He again brings up the knife, so I play dumb for a bit and act like I don't know what he is talking about.  Eventually I politely tell him that it is fine if he takes it, but I need to photograph the blade and get the address where he will be taking it, as I was told by the US embassy that as it was only a 2 inch blade it was ok, so they should know they are wrong about the laws.  This is all bull, I just wanted to say US embassy as I knew that may spark some fear into him.  I didn't ask for his info yet, but planned to depending on his reaction, as you are supposed to get name, badge number, and even car number from these guys if you have problems.  I certainly wasn't trying to piss this guy off as I liked my knife and wanted it back.  I tell him I think he is right, but now I have been told different things by different people and am confused.  Really I know this is probably going home to his kid, and while its just a knife a Leatherman is not cheap, plus it's the principle, he is clearly stealing it.  Well he realized my level of awesomeness, and quickly his story changes as he becomes buddy buddy with me again, and says he is going to let me keep the knife, but if it is found in the Yucatan I could be in trouble.  Suddenly he is done with me and tells me I can go, shaking my hand and playing good cop again….at this point I am not even pissed as I can add the shakedown and serenade cop to my collection, and think to myself that I will need these kinds of practice scenarios for Honduras, land of the corrupt cops.
I then made my way to Merida which was nice, but I don't see what the allure was to be honest.  I later told two Israeli girls to skip it which I hate doing. Even though my opinion is always fact, I don't know what others will or wont like, but they were short on time and I am confident they will enjoy the other destinations they had planned more.  By the way if all Israeli girls are as beautiful as those two I have another place I need to visit now.  I may or may not believe in love at first sight now, but I have definitely been convinced of god(s) existence.  Sadly they were leaving the day when I met them, clearly their god did not find the Jewish jokes I have made in my younger days funny and was punishing me, son of Jehovah!  The Centro in Merida had a great plaza to hang out in, but it seemed just like any other nice city in Mexico.  I stayed at a popular traveller's hostel to meet up with some people, and ended up taking a cenote tour with guys from the UK, Germany, and Australia.  We took an hour collective to some town outside Merida, not sure where as the others had taken care of the details, I was just going along for the ride.
We then had to take a ride on a horse drawn cart, which was, well, an adventure I suppose.  The cart was not very comfortable, though it wasn't bad, just a bit teeth jarring.  As the man whipped the horse we sped along through the woods towards the cenotes, about a 20 minute ride to the 1st, and maybe 10 more for each additional one.  There were about 50 horse flies attacking us the whole way, only occasionally biting us, but more annoying than anything.  We got the cenotes and had each one to ourselves, as again tourist season is pretty much over.  We spent about 30 minutes in each jumping into and swimming in these cenotes, though it was tough to take any pics of them due to lack of light.  I believe much of the Yucatan has underground rivers, and the limestone collapses creating these cenotes, so they are found everywhere here.  The water was very blue, and often had giant roots hanging down from the roof, though only a few catfish and a couple bats, not much else for life in the ones we went to.  It was a good time, and after that none of us felt like there was much left for us in Merida, so I was not alone in my unimpressed opinion.  There are better centotes throughout the Yucatan and Belize, but for the low cost and luxury of having it to ourselves it was well worth the trip.
Cancun, Quinta Roo:
The Aussie had said he was planning on going to swim with some whale sharks next, then head off to Cuba for a bit, and come back to do Central America.  He almost convinced me to join him in Cuba….but I didn't want to drop the money for a plane ticket and parking my van in Cancun.   I have since heard mixed reviews about Cuba so glad I decided to save my money, though I bet it's a very unique, and fun trip and most people seemed to enjoy it that I have spoke to.  We exchanged info and decided we would meet up for some surfing later on Central America somewhere, though I will probably still be in Mexico at this pace.  I told him I had planned to go to Chitzen Itza, one of the 7 wonders of the world, but ruins start to look the same after awhile, and with both the increased prices in the Yucatan, and the tourist coming from Cancun decided I didnt need to see it, so again the wheels started spinning again.  The next day I decided to join him with the sharks so offered him a ride.  The Giants game was on that day so we jumped on the toll road as I hoped to make good time and possibly could catch it somewhere close to where we were going, a long shot but it the 1st game of the season so I was hoping to catch it now that I was in more civilized areas of Mexico.  Turns out the toll roads outside of Cancun do not have exits, and we were tricked into going to Cancun, a place I already knew I would despise, and would remind me of Cabo.  We found a hostel right away in the centro, 10 bucks, good size, I had been sold instantly, the Aussie wanted to keep looking for a better deal.  We walked over to another around the corner to check prices , our hostel was empty but much cheaper, 140 pesos (10.73 USD) for our own room, 2 beds, a fan and private bathroom vs 180 for a 10 person dorm.  Yeah 10 bucks…why are we wasting time looking for better deal, we have a game to catch!  While at the other hostel we met 2 more travelers from New York, so we made plans to watch the game later.  I wish I had written it down as I have no idea where it was or what it was called but it was a pretty good find.  We all headed to the tourist area and watched the game at Hooters.  Now, I have only been to 3 or so of these, but cannot figure out why they exist.  The food is terrible and overpriced, and aside from the Brazilian working in the Toronto Hooters, I have yet to see an attractive girl in there, but the game was on so we didn't care.  As we walk in we were immediately greeted in English, and most of the waitresses were from the US.  Yeah you have got to be kidding me, Cancun is worse than Cabo, its little things like that that can piss me off….greet us in Spanish dammit, this is Mexico!  Fortunately The Giants ended up losing the game, as the key to their Super bowl domination has been to barely make the playoffs, and then crush the unsuspecting opposition, so we are right on track now.  I have to admit I was looking forward to bashing cowboys fans, but since most cowboy fans don't know how to read I suppose it doesn't matter anyway. 
We then decided to celebrate the successful plan Coughlin has come up with and headed out to the clubs right around the corner.  It was a Wednesday night, this I know for a fact.  Cover charges for the clubs went as high as 60 USD which included all you could drink of crappy alcohol, so we walked around to find the best deal.  We ended up talking to a guy who ended up being from Iowa selling bracelets to the clubs for a good 10 or 15 minutes just shooting the shit.  He appreciated that and told us about one for 15 USD even though he wasn't selling one to that place and wouldn't make any money off us, and it included a pass to enter the 60 dollar place, just didn't include the drinks, so we could get our drink on and then go to the better club.  Turns out not everyone in Cancun is a douchebag, so I thought.  Well, he then set me straight as he follow this up by laughing and telling us he just sold 4 girls passes to the 60 dollar club, even though the 15 dollar clubs pass lets you enter both places, yup there is the Cancun I expected. 
It was a good night, with both a spiderman sighting and a Michael Jackson sighting.  At one point "Billie Jean" came on and like the red sea the crowd instantly parted, where we were treated to moves I thought I would never have the privilege of seeing again since his death.  Later the Aussie and New Yorkers headed home while I stayed behind as I was once again dancing to extremely terrible music.  The girl was from somewhere in Mexico…it was waaaaay to loud to figure it out, as everything in Mexico is done at maximum volume.  For someone who does not like to dance I have done way too much of it out here.
Eventually I decided I should head back as well since it was 3 and the group I was now with were showing no signs of slowing down for the night.  I grabbed a cab and headed back to our hostel in the Centro.  I was dropped off a few blocks from the hostel as I didn't know the street name and began my walk, late at night.  This is not something I recommend, and definitely not in Cancun.  There were a bunch of working girls on the streets, now I haven't read much about prostitutes on the blogs or travel forums I follow, but am aware it is common.  I think due to the taboo of prostitution people shy away from telling these stories, but I told you I would tell the good and bad of the trip, so here is my prostitute story, yay!  As I am walking a "working girl" approaches me and tries to catch my interest, "Come on baby, want to have some fun".  I continue walking and tell her no thanks, while she tries to convince me otherwise.  Finally she sees she is losing the battle, and in one last desperate move, helps herself to a handful of manhood through my shorts.   It is at this point I am sure a good amount of guys out drinking for the night would have been F'd and succumbed to her business tactics.  I immediately push her arm away and change directions, making it obvious I want no part of her.  Suddenly, a cop car comes speeding up with lights on, throws her into the back, and tears off as quickly as they appeared.   They certainly could have been dicks and accused me of being involved as I have heard nothing good about the Yucatan police, so I am thankful it ended the way it did, though that means I don't have a jail story…yet.  I don't think it was a setup due to the amount of working girls around at this time of night, but who knows.  Hey. At least I have my 1st, and hopefully last prostitution story.
At this point I am almost home, but still need to go 3 more blocks so pick up the pace.  As I near the hostel a different group of cops come tearing up in a truck and come to a stop in front of me.  About 6 cops jump out, push me up against the truck, start patting me down and emptying my pockets asking me if I am drunk multiple times.  Its fast, forceful, and certainly unpleasant.  Then they put everything back in my pockets and without so much as a thank you jump in the truck and tear off.  It all happened quick, and I was sure I had been robbed.  I check my pockets, and still have my iphone.  I open the wallet and all my money is there as well, phew.  Turns out they were only looking for drugs, but could have gone about it in a much more professional way.  Speaking with others here the cops out here have a reputation for both robbing and intimidation, as they know they can get away with it.  Between Cancun and Merida, I certainly have gotten that impression.
Hung over and having spent about 15 hours in Cancun which is way too long, we headed off for the whale sharks. Some of you may have heard of the mystical Liger, a hybrid killing machine combining the agility of a tiger and the power of a lion.  Well there is a similar animal of the sea, the whale shark.  This man killer combines the enormous size of a whale with the taste for blood and killing power of a great white…my kind of adventure.  The only down side, its very touristy.  Even though the season would end in a week as they head off to warmer waters, there were still a lot of people.  We paid 1000 pesos (76 USD) for a boat ride out to the deep ocean, which also included a few waters/cokes, a crappy sandwich, some fishing, and a stop off in a lagoon for some ceviche, if we caught anything fishing.  The scene was a bit chaotic with about 100 boats and people snorkeling everywhere, though it must be 10 times worse in July with even greater numbers of people.  3 people at a time get to jump from the boat  wearing a snorkel, mask, and fins, and swim along side the whale shark for a few minutes before losing it in the great abyss.  There is some confusion with all the people as everyone looks the same in a mask and the mandatory life vest, but our guides set us up away from the pack so it worked out well.  These guys are enormous, though small from what I have heard compared to whale sharks in other parts of the world, may have been the time of year too.  You are not allowed to touch them (I presume that is when they will eat you as I somehow survived the ordeal), I came dangerously close to being hit by their giant tails often as I snapped away with my camera.
I got a few good pics but it was tough as you are swimming along trying to keep up as long as possible.  After 5-10 minutes max you get out and another 3 go, though you get 2 rounds in total so 10-20 minutes for 76 bucks.  We heard others had paid up to 150 USD so I am not complaining, but some had gotten them as low as 53 USD as well.  The second round my camera was off so I didn't get any of the great pics I thought I had grabbed, but I saw the guy from Spain vere off and follow another group/whale.  Well hell, I am following him to hell with these time limits.  We took off and got some extra time in before finally being yelled at by another boat.  swiming back to ours we laughed and high-5'd, nothing like working the system to bring people together.   We then went fishing to catch our lunch of ceviche, which really means we paid to catch them some fish, as they kept the best ones either to take home or sell.  An Irish girl caught her first fish ever which was enormous and ended up being the catch of the day…I wish I had gotten a pic of it. I told her she should probably never fish again, it could only lead to disappointment, hey I am an optimist.  Turns out I am very good at catching bait fish, many of which were thrown back to the ocean.  Overall it was worth it, but its definitely all about the money…as are most thing in Cancun.
Some more beach relaxation away from Cancun was enjoyed, as I wanted nothing to do with cops or prostitutes.  The Aussie and I hit a new hostel and grabbed a room for 125 pesos (9.80 USD).  I misheard the guy at the desk mention the cost of a room with AC and figured the fans in the dorm would be fine.  It was a 10 person room and we had the last beds, so I had one no where near a fan.  I joke to the Aussie I should pay the extra for AC, even though it was crazy at 30 USD. Confused he tells me it was 145 pesos for the AC room, which cant be right, since that is only about 1.50 USD more.  Its really hot so I go to ask and verify, the Aussie is correct.  He stayed in the cheaper room and even joked travelers like to cut corner whenever they can so it would probably be empty.  Turns out he was right, travelers are cheap, and I had the room all to myself the 1st night, what is wrong with these people, AC for 1.50 a night, I would rather skip dinner than AC in this heat.  The next day I return to "MY" room and see a bag on a bed, damn, too good to be true, I should have known.  Well, I didn't stay upset for long, as I write this it is myself, and 9 attractive chicks from around the world all enjoying some AC in our 10 person dorm room…yup, life is good, that's what you get you cheap bastards!
I keep getting emails about chicks in Mexico, sorry you losers, this is a travel blog, and its already too personal for my taste as it is.  Im not trying to brag about where I have been or how your stuck in your boring cubicles, it just naturally comes across that way.  Really I hope it shows the awesome places that exist and should be visited by more people, though not too many more, on second thought just stop reading and go back to work, I don't need you ruining my paradises.  Besides, Mexico is not known for its number of attractive women, and as soon as you leave the cities the numbers drop into the negatives.  I don't mind sharing a few failures though.  What began as an easy night of drinking in this beach town somewhere in Mexico ended with too much tequila, which is how the story usually goes around here.  Anyone who knows me knows I am a sucker for blondes, so two hot blondes from my awesome room and i decide to grab dinner, foolishly I invite the Aussie.  As it's a pretty social hostel, more people were invited and it spiraled out of control.  I cant complain as I started it when I invited a guy who worked there, but it was one of those awkward things where we had asked him where to go and he hinted that he was hungry and let the awkward silence ring… so I felt I had to.  Damn, so much for me, an Aussie, and two hot blondes, in hindsight I shouldn't have even invited the Aussie and just kept the blondes all too myself, lesson learned.  At least the guy to girl ratio was still well within our favor, as we invited more people since my diabolical plan had been ruined.  Much later most of the chicks went to bed so a German dude and I hit up the local bar where a few of the remaining girls were going to meet up with us.  Turned out this bar was where all of the local average looking to below average looking women apparently go in this town.  As soon as we walk inside some guy who is clearly shitfaced is hanging all over the German and I.  He wraps his arm over my shoulder and slurs to me "where are you from", so I tell him "California".  15 Seconds later he asks me where I am from so I say "USA".  15 Seconds later he asks me where I am from so I say "California".  15 Seconds later he asks me where I am from so I say "Me gusta chicas".  15 Seconds later he asks me where I am from, you get the picture, he couldn't remember anything, let alone stand up on his own.  I shake him off me as he clearly is not going to do it himself.
He was harmless, and the local chicks thought it was hilarious, so we politely humored him for 2 or 3 minutes before his friend finally pulled him away and told him to leave us alone, so I though.  5 minutes later I see the German dancing hand in hand with him, not that theres anything wrong with that.  The German was shitfaced but was a good sport and had no problem putting up with him.  We finally get away and were forced into more dancing though finally with women, and actually had a good time as we were often the center of attention being the only white boys in the place.  We left with a group of 10 or so locals pilling into a golf cart (no really 10, we were all hanging off the thing) to head to another bar.  We did a lap of the town and ended up back at the same crappy bar as it was all that was going on.  The bars there close at 4, so later as it was closing everyone was outside hanging out in front of the store having a good time.  A new group of girls approaches us and starts talking to us.  Now I will admit I was pretty drunk at this point, so the vision was a bit blurry….but something was defiantly off here.  The girls were dressed nice and all done up…but they were looking a bit…well…er, masculine, with some pretty thick eyebrows.  I figure I drank way too much but brush them off figuring it is probably just more unattractive girls from the bar.  The next day I mention it to the guy who works at the hostel, and he confirmed that there were definitely some lady men in this place.  Great, now I have a tranny story as well…I think its going to be a long time before I drink again, this shit is getting out of control.
Naturally that didn't last and 48 hours later I was suckered into a bit more drinking, I need to get out of here fast.
On a side note I met up with a Colombian who was with the Irish fisher woman, (you can check out their site discoveringice.com) so we exchanged info as we figure we will meet up later in our travels.  A few weeks later he sends me a facebook message saying he randomly stumbled upon the reddit page of my "missing persons thread" where people were asked to help find me.  Great, I will never live that one down.
[portfolio_slideshow]
http://www.2guys1truck.com/pictures/flags/mexico-flag.jpg