This post is more about the pictures and I couldn't help but use the alliteration in the title. It was just too easy.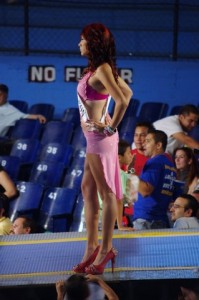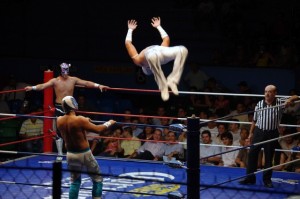 On Tuesday we checked out Lucha Libre, which is Mexican style wrestling. As Kiel said, Senora Alicia was very enthusiastic about it, so we figured it was a must see. There is a "show" every Tuesday night at the Arena Coliseo GDL, which is located at Medrano 67, only a short bus ride from Tlaquepaque on Ruta 275, which you can catch anywhere along Donata Guerra. In case you haven't noticed, Ruta 275 (sometimes it is 275-B, but I didn't notice a difference between the routes) is the ticket into GDL from Tlaquepaque. Tickets were only $60 pesos and two beers were $50 pesos. Lucha Libre is much more about the show and the crown than it is the wrestling.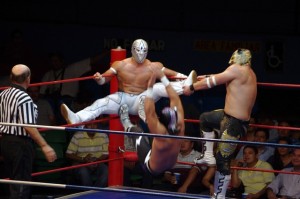 All the wrestlers must have been gymnasts or acrobats at some point, because these guys were flying all over the place. Of course Kiel thought he could do all the flips and jumps, but I don't think he would stand a chance. I would be remiss if I also did not mention the ladies of Lucha Libre. Between each of the three rounds of fighting one would walk up the runway, similar to boxing and between matches six or eight of them would park on the runway and just stand there for the crowd to ogle. And apparently sign autographs for young girls.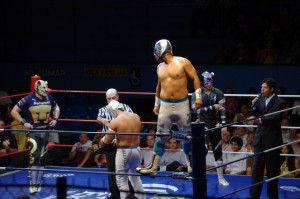 As I mentioned, the crowd really gets into the action. All night there was a crowd to our left (we sat in the balcony) chanting at both the wrestlers and the fans. In fact, after the matches were over, we were standing outside deciding if we wanted to get some tacos when they came over to me, Kiel and Roel and started chanting Taliban at me! The next morning I shaved my beard.
[portfolio_slideshow]
Futbol Mexicana